It's a sweet life when your pet gets to come along on your annual beach vacation! Fortunately, there are plenty of pet-friendly vacation rentals along Scenic 30A, making planning your tropical getaway a piece of cake. One of these pet-friendly rentals is A Suite Life in Dune Allen Beach. Not only does it allow your four-legged friends, but this cozy rental also sits directly on the sugar-white sand beach. Incredible gulf views, comfortable accommodations, convenient 30A location, and fun with your furry friend—what more could a vacation need?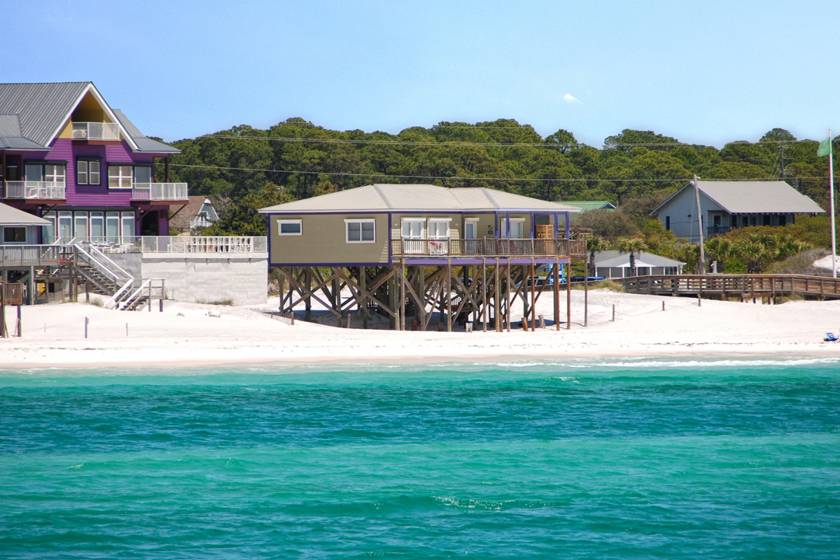 A Suite Life features two bedrooms, two baths, a sunny open floor plan, and a set of stairs that lead directly to the beach. It can accommodate up to six human vacationers and, of course, your doggo! The size and location make this the perfect getaway for a family trip or a vacay with friends.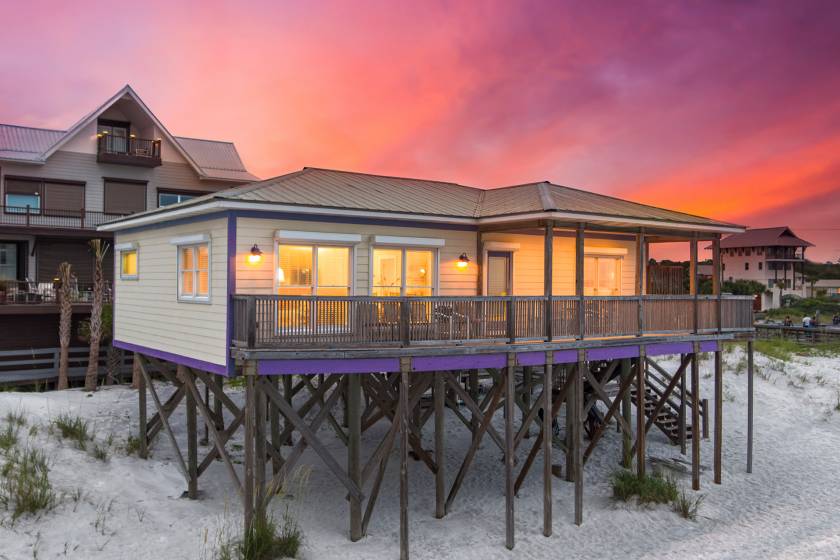 Upon arrival, guests are greeted with a picture-perfect scene — a one-level, beachfront home perched on stilts directly over the sugary sand of the Gulf. Purple trim adds a pretty pop of color to the home and pairs perfectly with coastal sunsets. A furnished, wraparound balcony offers a front-row seat to nature's most incredible show. Join your fellow vacationers on the balcony to enjoy refreshing cocktails, beach breezes, and show-stopping gulf-front views. And don't forget your pup's water bowl and a special treat to complete the party!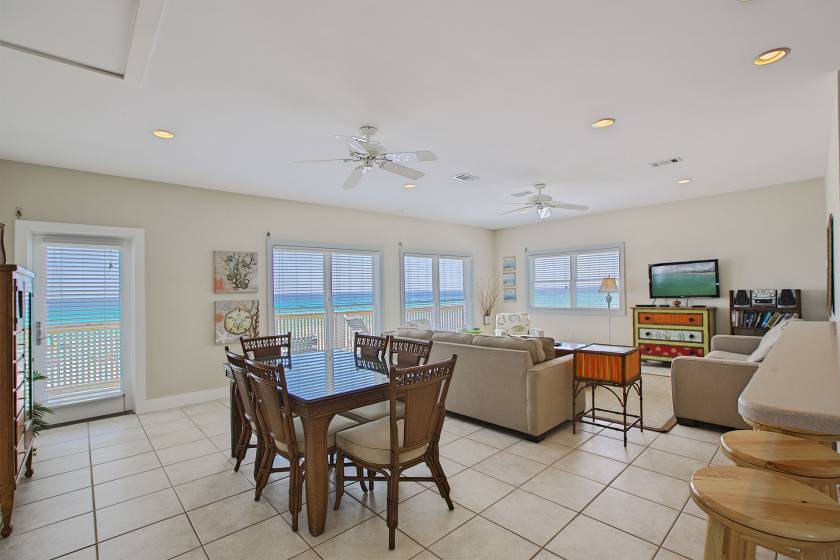 Inside, the open great room is bright and welcoming. Large windows let in the gorgeous sunshine while also offering great views. In the living area, twin sandy-toned sofas and two coastal-patterned accent chairs make up a casual seating ensemble that faces a wall-mounted TV. A chest drink table and colorful accent furniture add character to the space. Tile floors extend into the dining area, which features a glass-topped table. With seating for six, you can enjoy a delicious breakfast, brunch, lunch, dinner, or snack with your fellow guests. Six additional stools are located at the raised breakfast bar in the kitchen. The bar is perfect for serving tasty beach-inspired appetizers or cold drinks. The kitchen has honey-toned cabinetry and spacious counters.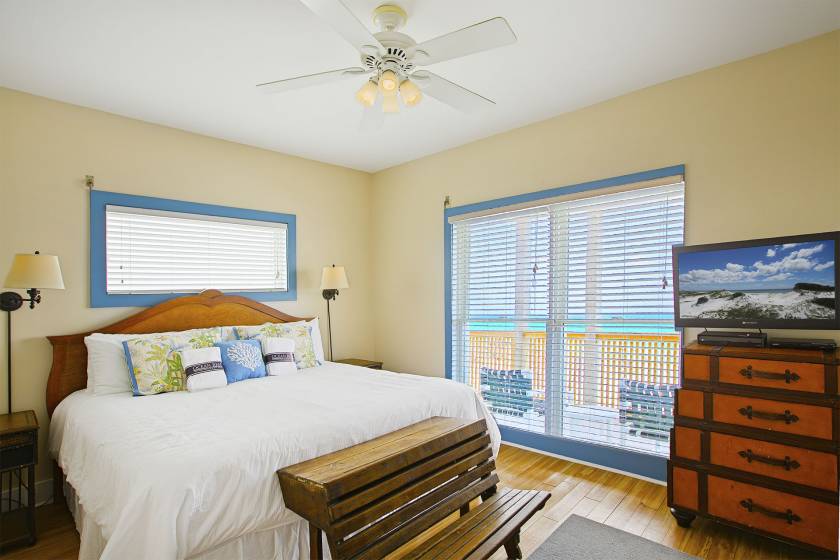 Of the home's two bedrooms, one is a vibrant master suite with windows trimmed in blue and access to the gulf-front balcony. The master suite has a king-size bed, foot bench, and a full bath with a walk-in shower. The cottage-style guest bedroom has a queen-size bed, TV, and sunny windows.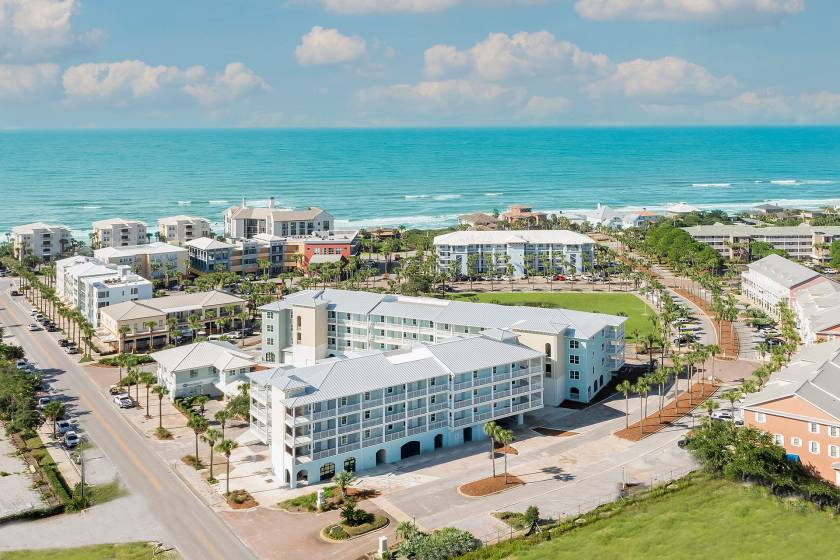 Another benefit of this lovely home is its proximity to the pet-friendly restaurants, shops, and events on Scenic Highway 30A. Gulf Place Town Center is only a short stroll away and boasts popular restaurants like Pizza by the Sea and The Perfect Pig. It's always fun to take a stroll through the collection of vibrant huts full of local artwork that makes up the Artists at Gulf Place. The adjacent Gulley Amphitheater hosts live music and seasonal events that are fun for the whole family. Just north of the amphitheater, Furry Fanatics sells 30A dog tags and pet merchandise. This is the perfect place to get your pooch a 30A souvenir! Other scenic beach towns along Scenic Highway 30A are also pet friendly. Oftentimes, you'll come across water bowls as you stroll along the highway, exploring each quaint community. The state parks in the area also offer winding nature trails that are great for taking your furry friends for a relaxing walk.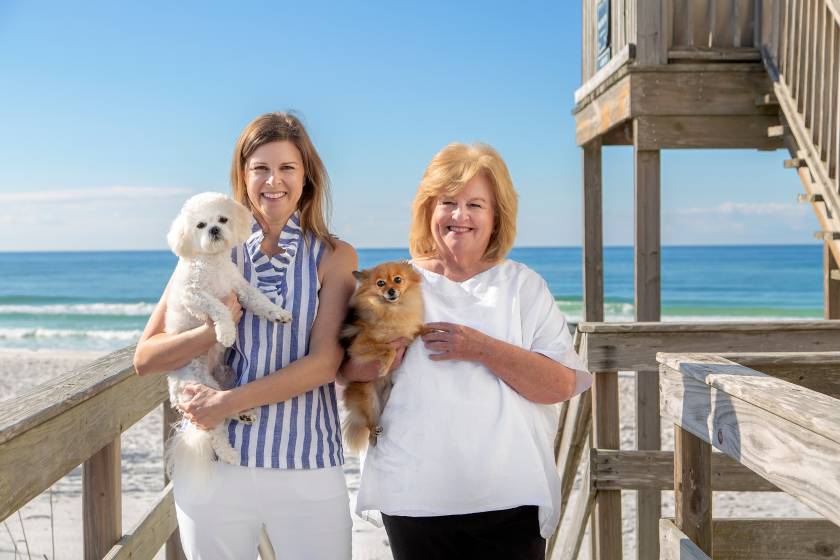 If you're planning a 30A vacation soon and want to bring your dog with you, check the availability for this two-bedroom beachfront and pet-friendly rental. It is the best place to bring the whole family, including the furrier members of the family! With a beachfront location and close proximity to all the fun, you're bound to have a memorable beach getaway.