Have you ever dreamed of waking up to the sound of waves and the soft scent of sea salt in the air? Of opening your eyes to panoramic views of snow-white sand and miles of glistening, jeweled-toned water? If this sounds like something you'd love, then a 30A vacation is exactly what you need. And a stay at Ramsgate 7 will make those beachy daydreams come true!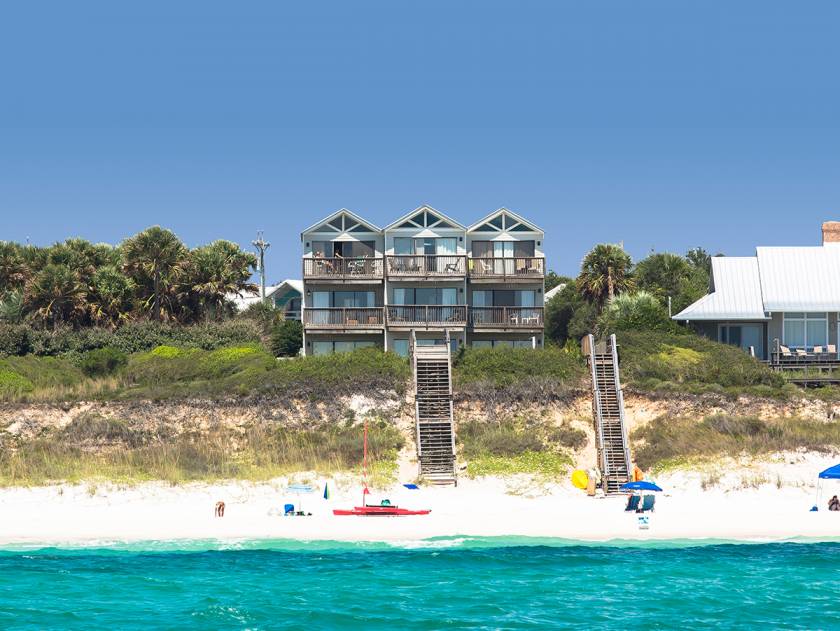 Ramsgate 7 is a beachfront condo located in Seacrest Beach on Scenic 30A. Perched on the sparkling gulf, this chic coastal condo is the embodiment of beach elegance. But want to know the best part? It's available to rent for your next paradise vacation! With one bedroom and one bath, this third-floor condo can sleep up to four vacationers. Planning a romantic getaway with your honey? This place is for you. Honeymoon coming up? The condo's beach views and intimate setting will add a spark to your trip. Spending a fun-filled beach week with the family? This rental has everything you need. Whatever small beach escape you want to book, Ramsgate 7 will make sure your vacation is everything you've dreamed of and more.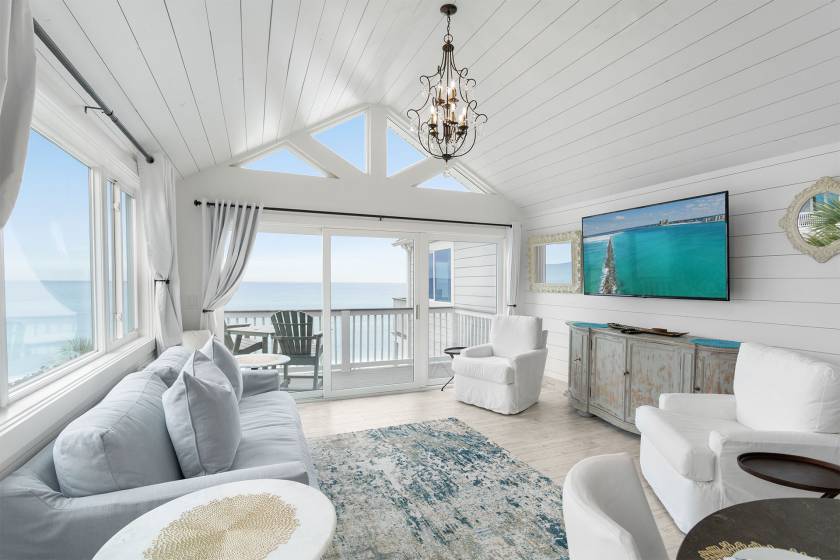 Upon stepping into this Gulf-front unit, you are immediately transported to a tropical oasis of laidback luxury. Once you're through the front door, you'll see an expanse of smooth emerald waters through a wall of sliding glass doors on one end of the open great room. Another window offers even more spectacular views of blue-green waves kissing a shore of crystalline sand.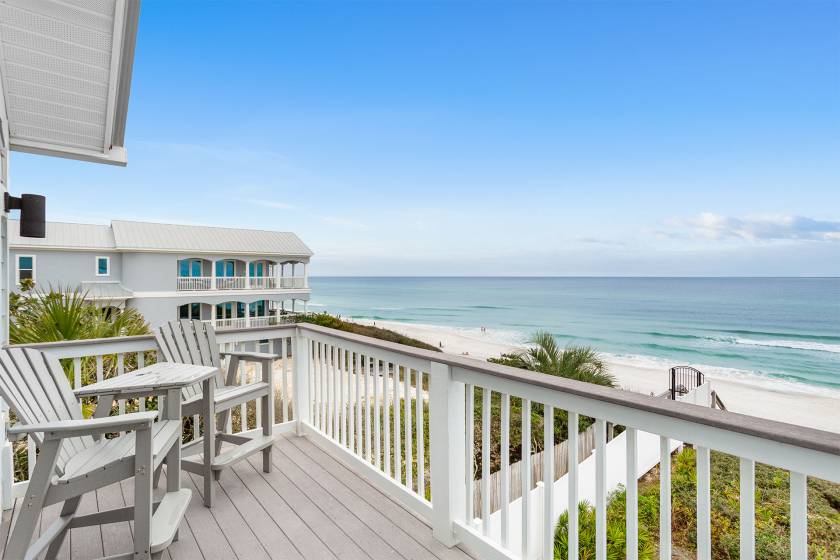 A beachfront balcony beckons you to relax outside. Here, you can listen to the waves, feel the light coastal breezes tickle your sun-soaked skin, sip a refreshing margarita, and simply enjoy the stress-free company of your fellow vacationers.
Back inside, the beachy ambiance continues. Light hardwood vinyl flooring, shiplap walls, an angled ceiling, and tropical-inspired décor adds to the relaxed atmosphere. The living room features a light blue-gray couch that doubles as a queen-size sleeper sofa. Two plush white armchairs and a white slipcovered accent chair complement the sofa. The cozy seating ensemble encircles an abstract rug with hints of blue, white, and gray. Two modern drink tables flank the couch. Opposite the couch, a beach-washed credenza sits beneath a wall-mounted TV. An industrial-style chandelier hangs in the center of the room, completing the space.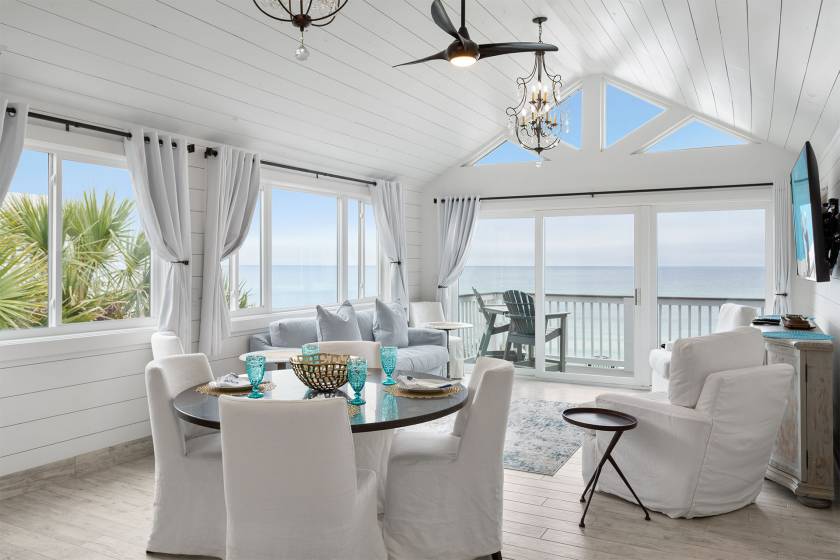 Next to the living room, a causal dining area features a formal round table surrounded by four slipcovered chairs. The table sits beneath a chandelier that matches the living room. A large window brightens the space, creating a sunny spot for dining all day long.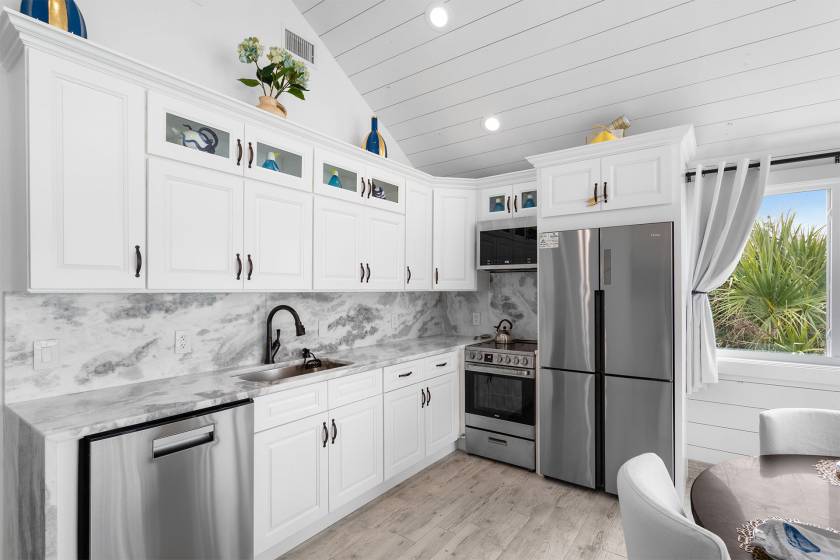 The modern kitchen is the perfect spot to serve up tasty vacation appetizers or homecooked meals. White cabinetry, sleek countertops, stainless steel appliances, and a marble-styled backsplash create a luxurious beach look. A few glass-front accent cabinets show off beachy décor, while blue and gold accent pieces sit atop the cabinets. There isn't a spot in the house that doesn't give off major beach vibes!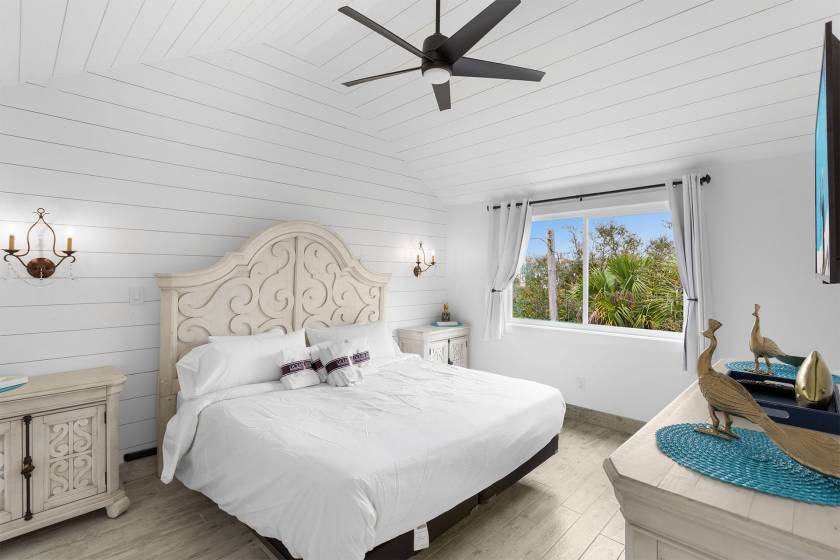 Lightly toned flooring flows into the condo's master suite, which features shiplap walls, a shiplap ceiling, and cream-colored decorative furnishings. Two industrial-styled light fixtures flank the room's king-size bed. A flatscreen TV is provided for evening entertainment. The TV is mounted above a pretty dresser with gold peacock décor pieces atop teal-toned mats.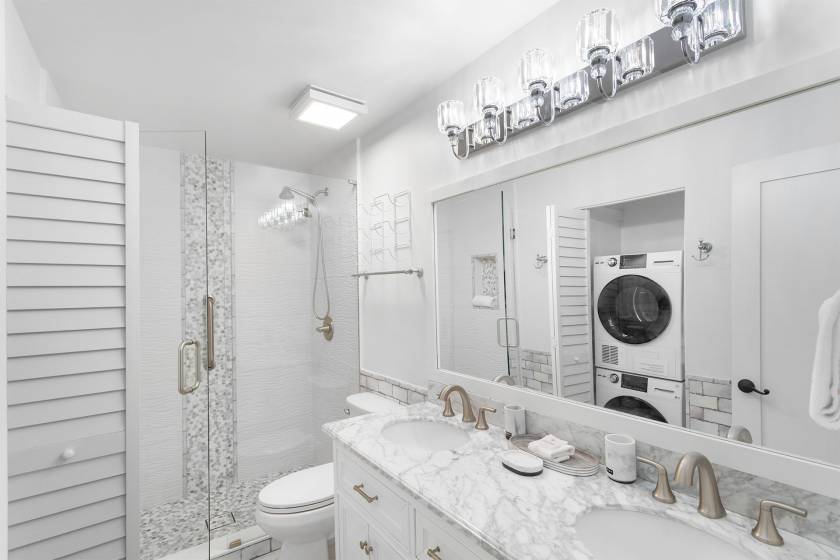 The master bedroom has access to a full hall bath. The bathroom includes a glass-walled, walk-in shower paired with a marble-topped double vanity. Modern lighting above the mirror makes it easy to get ready for a romantic beach date night! The bathroom also has a stacked washer and dryer, providing a convenient way to do your laundry while on vacation.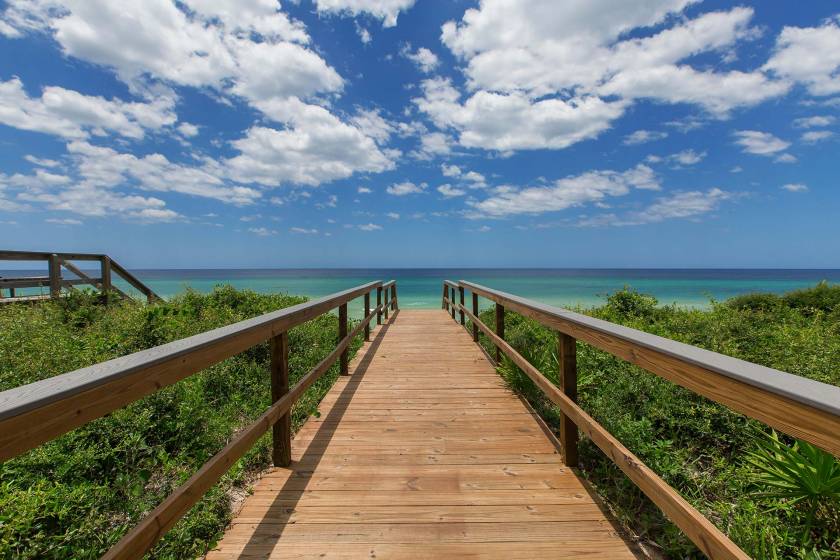 In addition to chic vacation quarters, Ramsgate 7 places guests near various coastal amusements. First, the beach is literally at your fingertips. A boardwalk leads directly from the property, over the densely vegetated sand dunes, to the sugary shores of the beach. Spend your mornings, afternoons, and evenings basking in the Florida sun, burying your toes in the sand, and splashing in the warm waves. A picturesque beach sunset is the perfect way to end the day before turning in.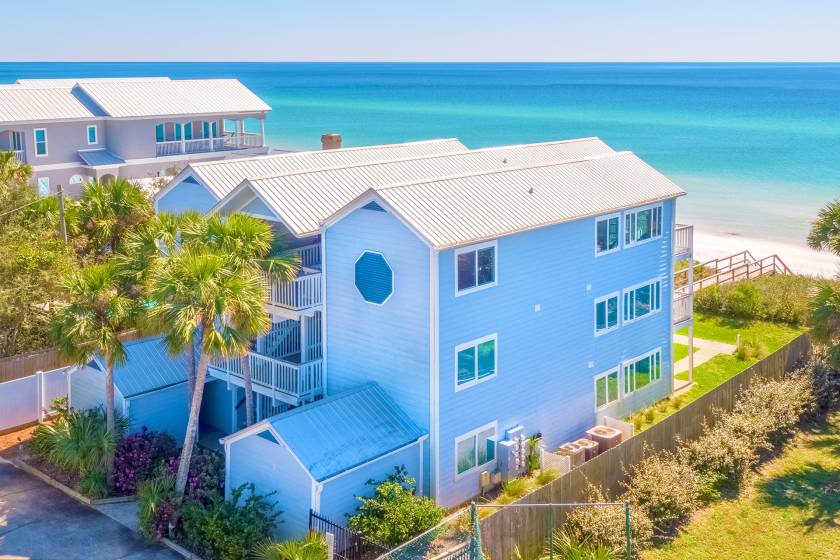 When you want to explore the surrounding area, there are plenty of fun things to do within walking or biking distance. The Big Chill 30A (formerly Hub 30A) is one of these spots, featuring restaurants, treats, shops, and art galleries. You can also catch seasonal events like the Emerald Coast Farmer's Market, family movie nights, live music, and more. Venture further to check out the other scenic beach towns of 30A. Grayton Beach is home to the iconic Western Lake, a glassy dune lake perfect for paddleboarding. Seaside has its own grassy amphitheater that puts on events for the public. The Blue Mountain Beach creamery offers ice cream and shakes that make amazing after-beach treats. In Alys Beach, you can take a self-guided sculpture tour of unique pieces that dot the town. And the other coastal towns offer even more!
When you're ready to start planning your next 30A vacation, be sure to browse available dates at Ramsgate 7! A stay at this coastal getaway is sure to enhance an already amazing beach vacay.