Blue Mountain Villas 12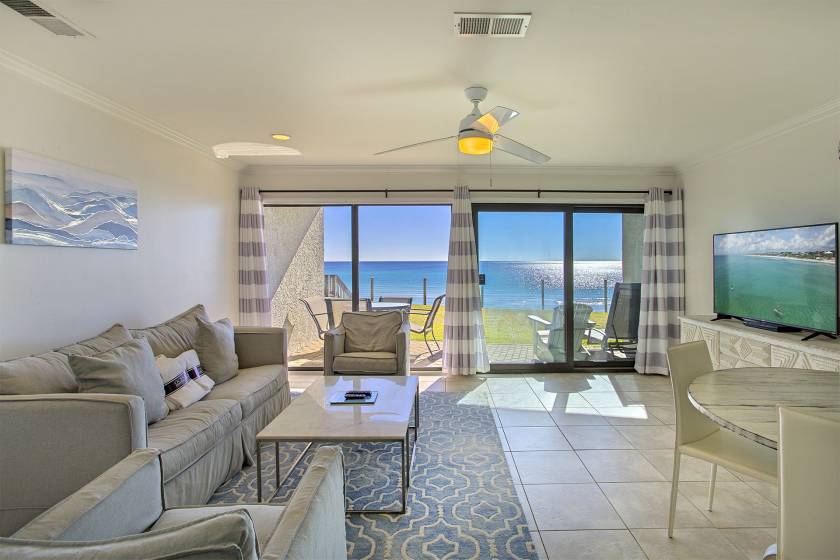 1 Bedroom | 1 Bath | 6 Guests
Blue Mountain Villas 12 is a ground-unit condo in Blue Mountain Beach on 30A. The main living area boasts a wall of sliding glass doors that face the gulf, providing a view of endless waves stretching out before you. The newly updated rental features a chic beach look. Tiled flooring, modern décor, and natural sunlight flow throughout the living, dining, and kitchen areas. The kitchen boasts custom white cabinetry and a quartz countertop. In addition to the king-size master suite, a nautical bunk nook with shiplap walls provides additional sleeping space.
Dune Villas 8A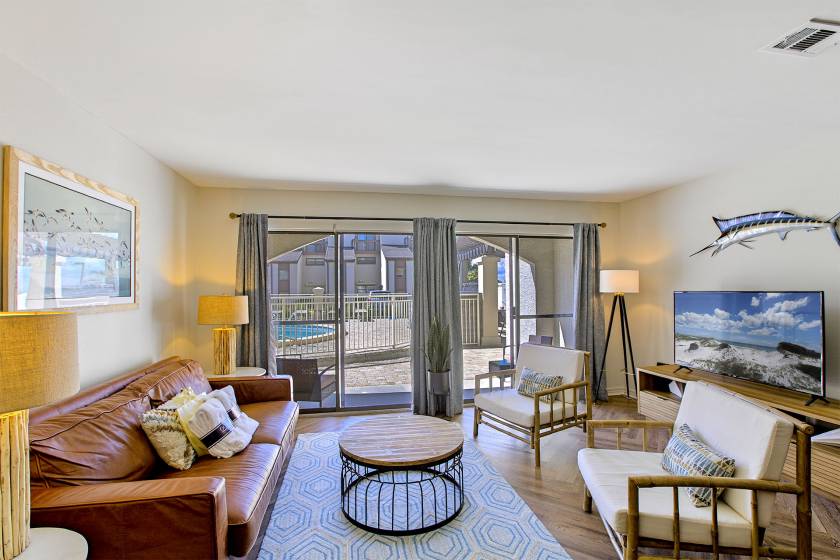 1 Bedroom | 1 Bath | 4 Guests
Perched right on the sugary shores of the gulf, Dune Villas 8A is a ground-floor condo in Seagrove Beach. Inside, mid-century modern collides with laidback beach vibes. The living room features a caramel-colored leather couch, two wooden accent chairs, and a modern cocktail table, all centered around a geometric-patterned rug. Sliding glass doors open onto the patio, providing direct access to the community pool. The dine-in kitchen has ocean-blue cabinets, black granite counters, stainless steel appliances, and a round dining table with four chairs. The bedroom is well-appointed with a king-size bed, flamingo-patterned bedspread, and colorful décor.
Grayton Beach Villas 101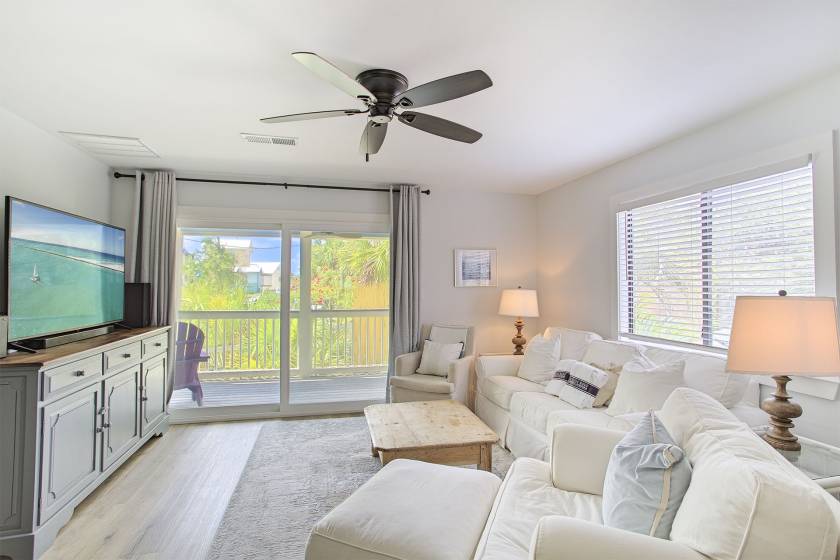 2 Bedrooms | 1.5 Baths | 6 Guests
Grayton Beach Villas 101 is nestled in the heart of the historic village center of Grayton Beach. The newly renovated interior radiates coastal luxury, featuring white couches and chairs, natural wood tables, woven chairs, and contemporary lighting. Sliding glass doors open onto a balcony furnished with yellow and purple lounge chairs, where guests can enjoy the coastal breezes while sipping their favorite cocktail. The kitchen has sleek white counters, white cabinetry, stainless steel appliances, and a tiled backsplash. The beach is less than a one-minute stroll from the property, as is the village center full of colorful shops and eateries.
Grayton Beach Villas 103

2 Bedrooms | 2 Baths | 6 Guests
Grayton Beach Villas 103, also known as Groovy Grayton, is an artsy condo that fits right into the funky and laid-back community of Grayton Beach. The condo's recent updates have made the space fun and fresh, featuring unique décor, comfortable furnishings, hardwood accents, and ample natural sunlight. A gray, geometric-patterned accent wall with a window connects the dining area and kitchen. The cozy living room includes a dove-gray couch and armchairs, a colorful rug, and a tiered drink table. Glass doors open onto a breezy balcony with a blue accent wall, string lights, bench seating, and a romantic table for two.
Ramsgate 7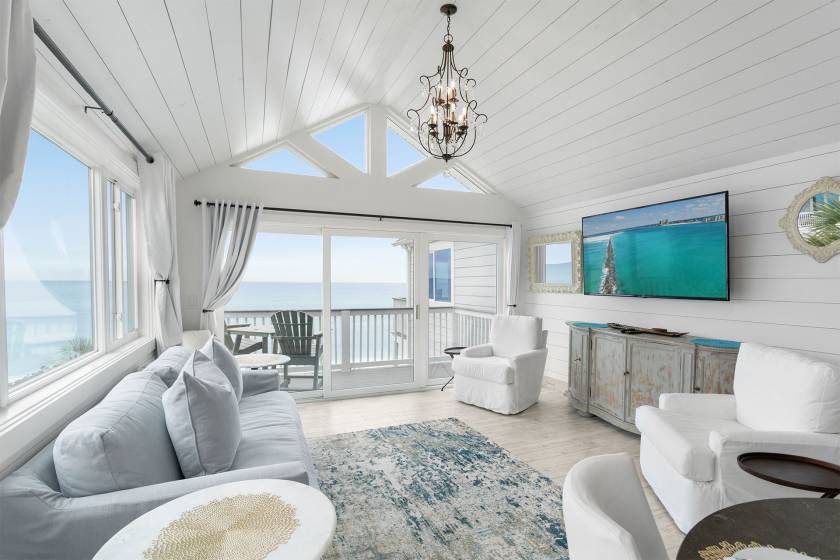 1 Bedroom | 1 Bath | 4 Guests
Ramsgate 7 in Seacrest Beach is the epitome of a luxury coastal getaway. Nestled in paradise and perched atop sugary sand dunes, this stunning condo boasts the best gulf views. The interior is bright and white, featuring a shiplap ceiling and walls, white and light-colored furnishings, and pops of muted blues. And let's not forget all the windows! Two walls of large windows and a set of sliding glass doors face the beach, letting in brilliant sunlight and beautiful views. The master suite is chic, with a king-size bed, carved headboard, and light-wood furnishings. A set of stairs leads directly from the property onto the crystalline shore. If a romantic retreat is what you're looking for, this is the place for you.
Sea Haunts 7A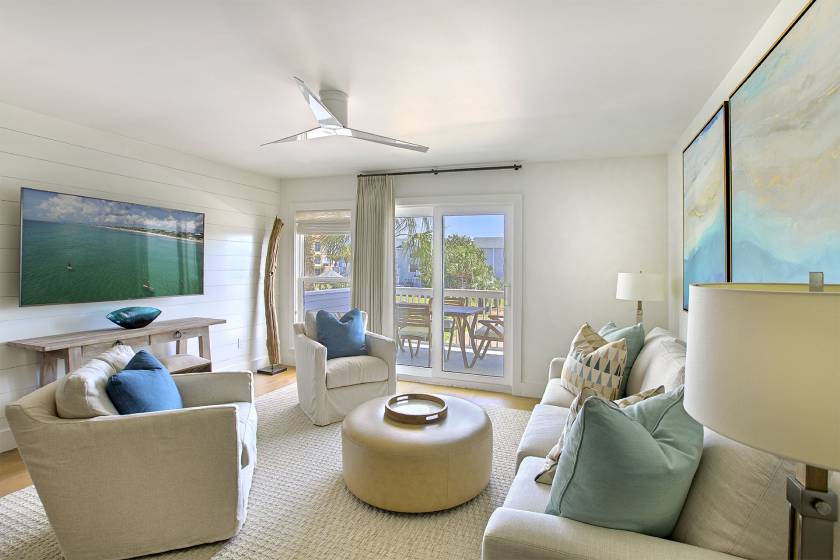 3 Bedrooms | 3 Baths | 8 Guests
Slightly larger than your average condo, Sea Haunts 7A can accommodate up to eight 30A vacationers. This contemporary-styled condo is only a one-minute stroll to the beach. Inside, you'll find honey-toned hardwood floors, shiplap walls, sea-inspired wall décor, and decorative accents. The cozy living area includes a seating ensemble that faces a wall-mounted TV and glass doors that access a relaxing patio. A dining table with bench seating sits beneath an industrial chandelier and is nestled against the kitchen bar. An open staircase leads to the bedrooms on both the first and third floors.
Shoreline 9 #1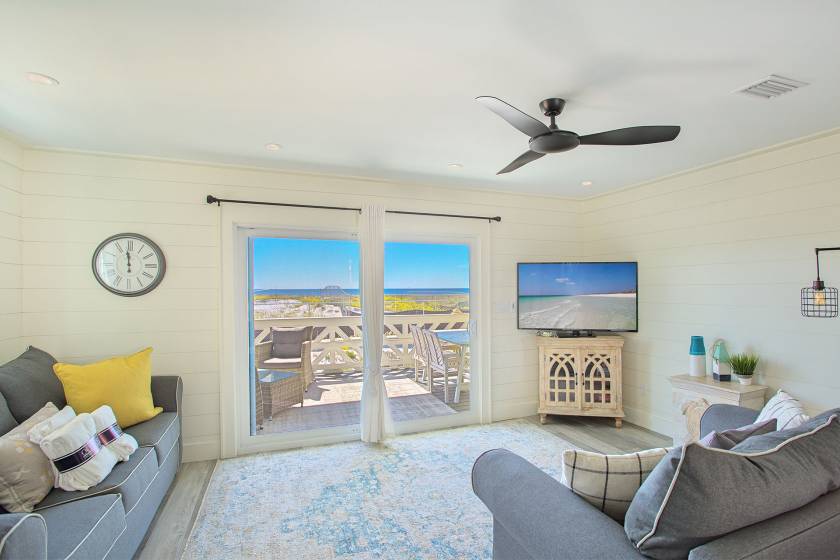 2 Bedrooms | 2.5 Baths | 6 Guests
It's no surprise you'll find shoreline views when you stay at Shoreline 9 #1 in Inlet Beach on the eastern edge of 30A. This updated condo is brightly lit, boasting glass doors that provide uninterrupted views of the coastal sand dunes and endless gulf waters. Shiplap walls and light-wood flooring spread throughout the main living area. Modern appointments adorn the chef's kitchen, including a granite-topped bar, white and glass-front cabinetry, stainless steel appliances, chic pendant lighting, and a white tile backsplash. Each spacious bedroom has a king-size bed.
Sunseekers 1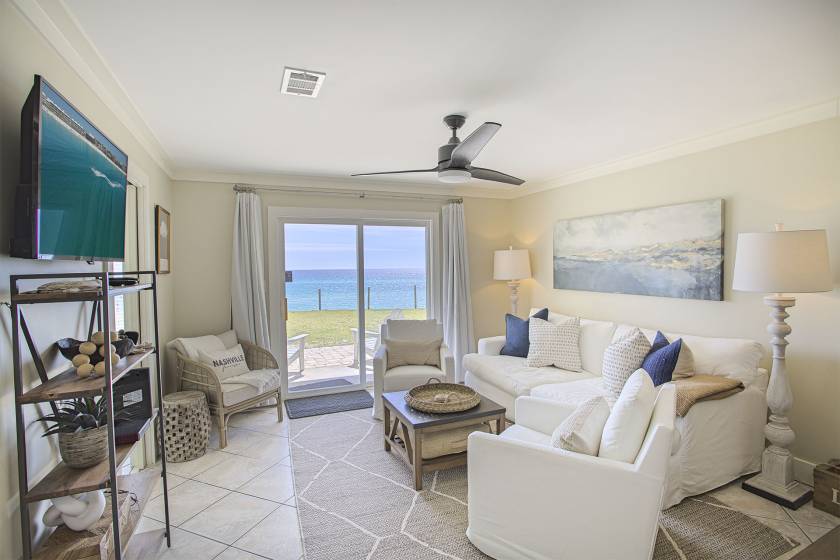 3 Bedrooms | 2 Baths | 6 Guests
Sunseekers 1 is a gulf-front, ground-floor condo in Blue Mountain Beach with great views, comfortable accommodations, and new updates. The living room features tiled flooring, a white slip-covered couch, a matching armchair, and two accent chairs. A gorgeous sea-inspired abstract painting sits above the cozy seating ensemble. From the living area, guests can watch the emerald-green waves through sliding glass doors that lead to a romantic patio. Back inside, the open kitchen has blonde cabinetry, stainless steel appliances, and a sleek breakfast bar. Two of the bedrooms have queen-size beds, while another has two twins. Each bedroom is cozy and welcoming, with comfortable furnishings and chic décor.
Sunseekers 4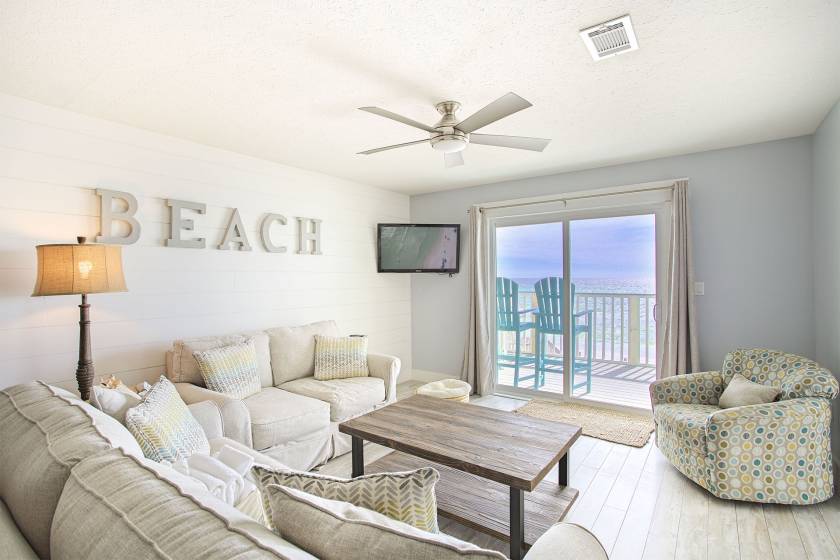 2 Bedrooms | 2 Baths | 6 Guests
Enjoy gulf-front views, spacious living accommodations, and comfortable bedrooms at Sunseekers 4 in Blue Mountain Beach. Shiplap walls, wood floors, and woven accent furniture create a welcoming atmosphere. A light-gray couch, matching loveseat, and teal-toned accent chair make up the casual seating ensemble in the living room. Raised chairs of a matching teal color furnish the beachfront balcony. Use the cute bench seat as a fun reading nook to start knocking books off your to-read list. The master suite is bright and airy, with seafoam-colored walls, large windows, beach views, and a king-size bed. The guest bedroom includes two full beds with handsome hardwood headboards.
Do you see a 30A getaway in your near future? We definitely do! Check out these updated condos and available dates so you can book your next vacation!