Did you know that there is an underwater museum about a mile off the shores of Grayton Beach on 30A? Well, there is, and it is awesome! It lies at a depth of 58 feet with an underwater sculpture garden that features sculptural works designed by artists worldwide. The underwater museum attracts divers, art lovers, and most importantly, a variety of marine life as it becomes an artificial reef over time.
The Underwater Museum of Art (UMA) currently features various sculptures from yearly installations since 2018. These include an Anamorphous Octopus, the Grayt Pineapple, SWARA Skull, a Saguaro cactus, Eco-Bug, and a lamp titled Three Wishes. A cement reef embodies the theme of ocean degradation and coral bleaching titled To Replenish with Water. Made from a welded stainless-steel bar, another sculpture titled Self Portrait was designed by the very own Justin Gaffrey of Santa Rosa Beach. The variety of art, composition and meaning behind these pieces truly adds a unique element to the underwater museum.
In 2022, ten more exhibits will be installed in the underwater gallery. The installation pieces will include the following:
Currents and Tafoni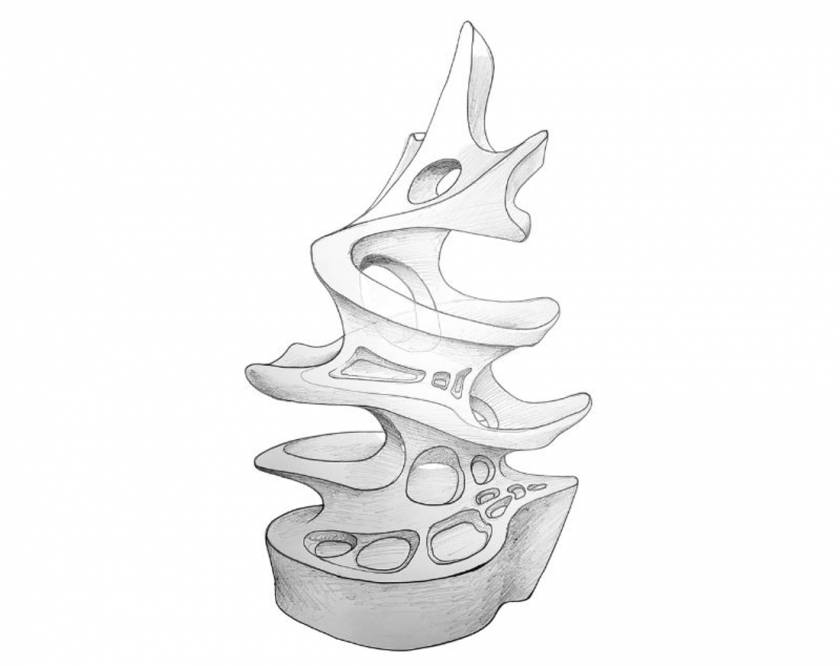 Artist Joe Adams from Ventura, CA, designed Currents and Tafoni. This limestone sculpture is a shell-like structure that will provide shelves for coral to live. The curves and spaces should allow for future coral expansion and will continually develop new details over the years.
Pirate Shipwreck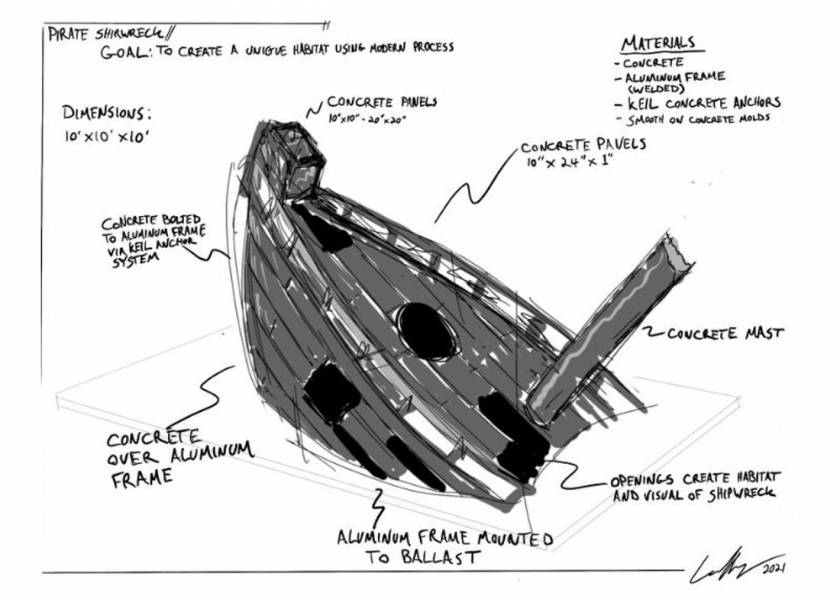 Imagined by Sean Coffey of Pittsburgh, PA, Pirate Shipwreck was designed as a sunken pirate ship with the intention of creating a unique habitat using a modern art process. The sculpture will be made using aluminum and concrete. The sand and coral that will eventually cover the sculpture will create the look of a long-lost ship beneath the waves. Fish and other sea creatures will be able to use the sculpture as a livable habitat.
Bloom Baby Bloom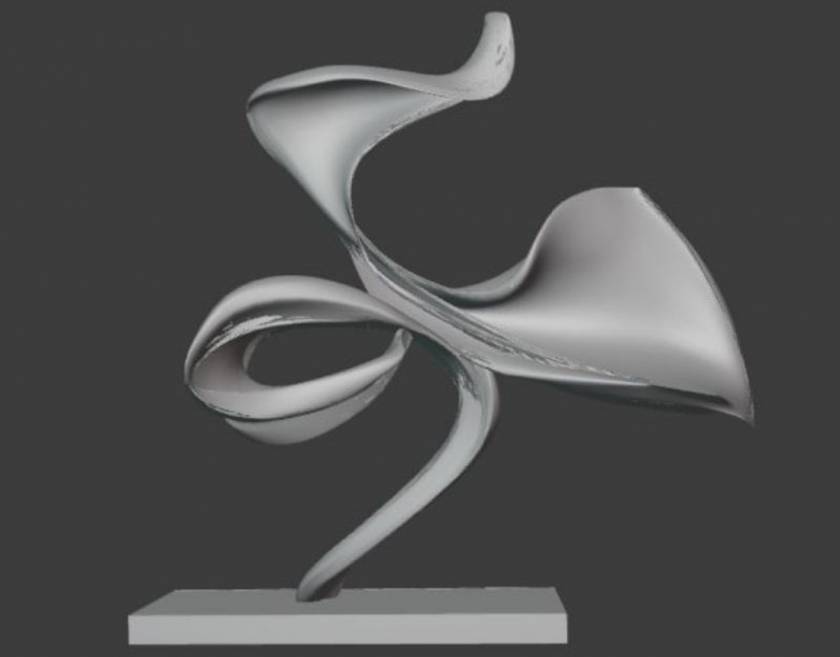 Bloom Baby Bloom is a minimalist piece with a curvy flow. Local artist Brit Deslonde designed the piece with heavy influences from the textures and forms she feels when she dives. The piece implies strength and bears an uplifting message regarding reef restoration.
The Seed and the Sea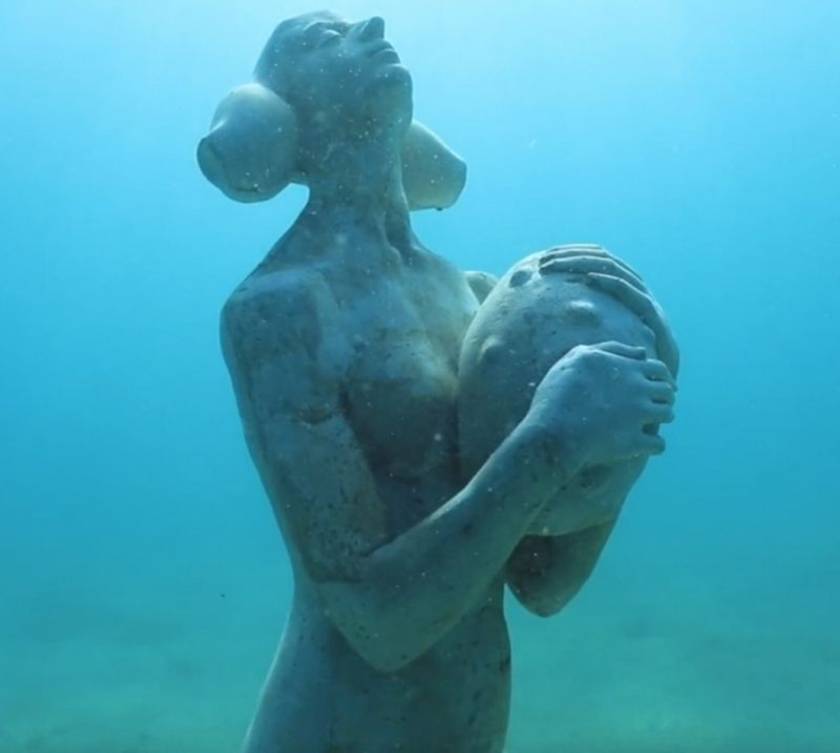 David Galbiati of Valreas, France, created this incredible piece that signifies "the fragility of marine ecosystems and the importance of preserving the balance of marine life with all of its members." The Seed and the Sea visualize the importance of the seed in nature, as it is the seed that creates, conquers, and transforms. As the year's pass and sea plants and animals use the sculpture as a habitat, the sculpture itself will be transformed into a seed.
Fibonacci Conchousness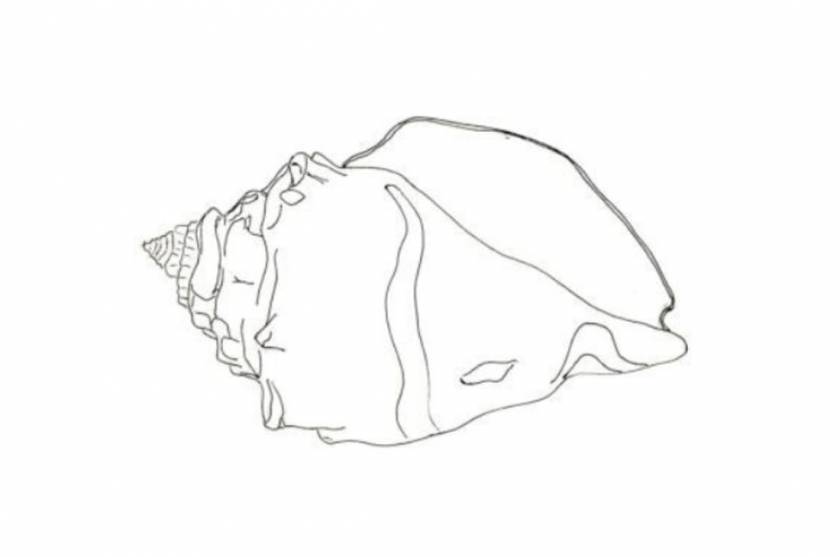 Created by Anthony Heinz May of Eugene, OR, Fibonacci Conchousness is a sculpture in the form of a large conch shell. The shell will be made using concrete and mounted on a welded frame. The conch design is a nod to the increasing scarcity of conches found on Northwest Florida beaches. While remnants of conch shells are often found on the coast, this sculpture shows the shell as whole and unbroken.
New Homes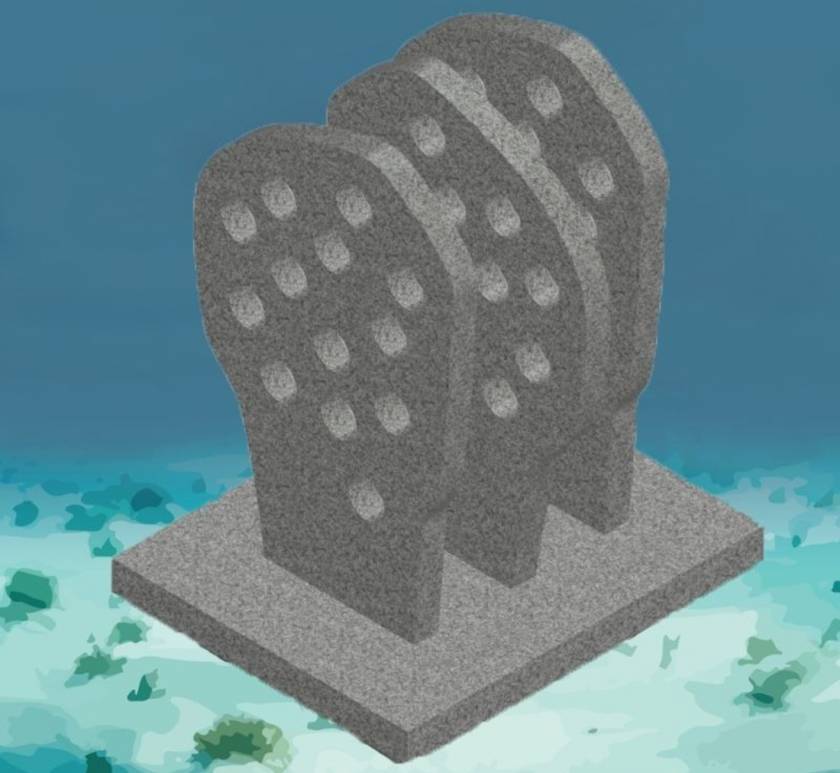 This abstract sculpture was designed by Janetta Napp of Honolulu, HI, who is happy to contribute to coral reef conservation through this piece. New Homes features three vertical panels with holes. Only one hole will line up across the panels, allowing a diver to see through the entire structure when looking at the front of the sculpture. The holes and indents will allow marine life to make this sculpture their home.
Arc of Nexus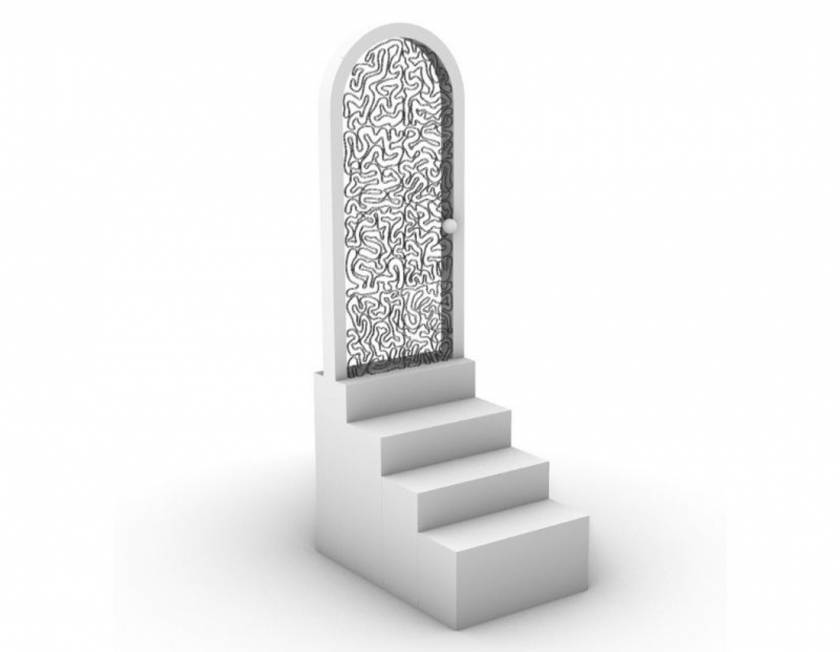 Rina Piracci from Richmond, CA, designed Arc of Nexus. This sculpture depicts steps leading upwards to a portal, which alludes to another realm. The imaginary portal in this piece invites divers to explore and understand the world around them.
We All Live Here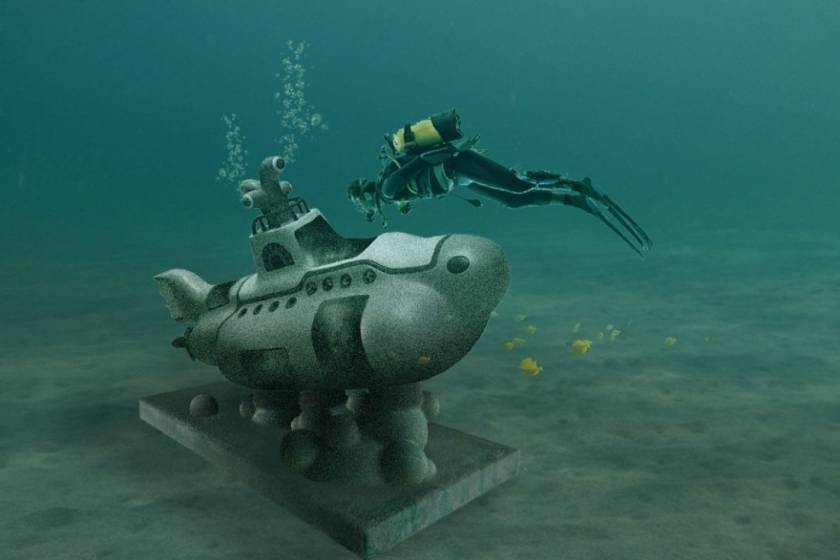 We All Live Here takes the shape of a giant and hollow submarine. Designed by Marisol Rendón from San Diego, CA, the sculpture will offer strategic entry and exit points for sea turtles and other marine life. The intention is for a variety of creatures to share the space and live there.
Mobifish-2021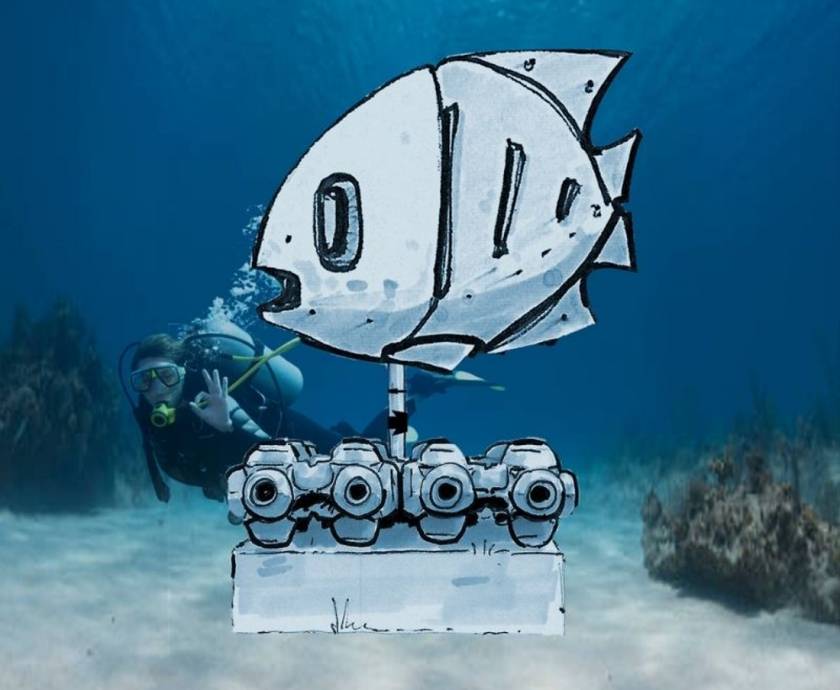 Mobifish-2021 is a fish sculpture that will move in the currents, essentially looking like a weather vane underwater. Mathias Souverbie of Les Valence, France, designed this fish that will be made out of concrete and offers a striking position in the underwater museum.
Common Chord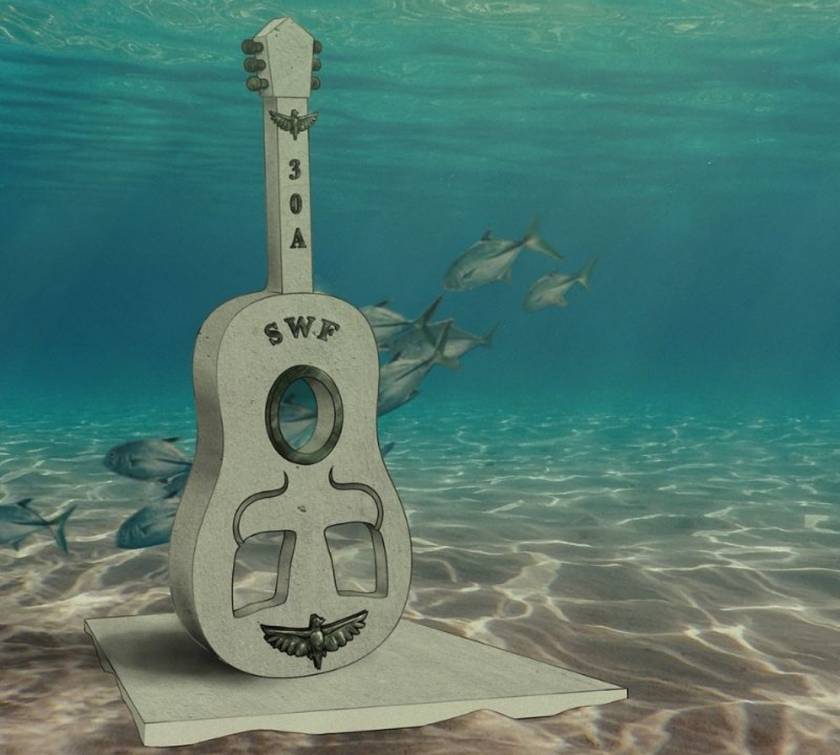 Common Chord is another sculpture designed by a local Santa Rosa Beach artist. Vince Tatum will create this sculpture in the form of a giant guitar. The Gulf of Mexico and live music go hand-in-hand on the coast, and this piece embodies these common chords in this unique piece.
Like everyone else, we can't wait to see these concept drawings come to life and be installed in the UMA gallery. This is one unique aspect of 30A that you should enjoy vacationing here. And to be close by, be sure to browse our Grayton Beach vacation rentals and check their availability dates.