Hey everyone, get ready to pack your bags and sunscreen because today we're taking you on a virtual tour of a real slice of coastal paradise - Blue Palmetto, a luxurious 30A vacation home nestled in the charming, historic seaside village of Grayton Beach.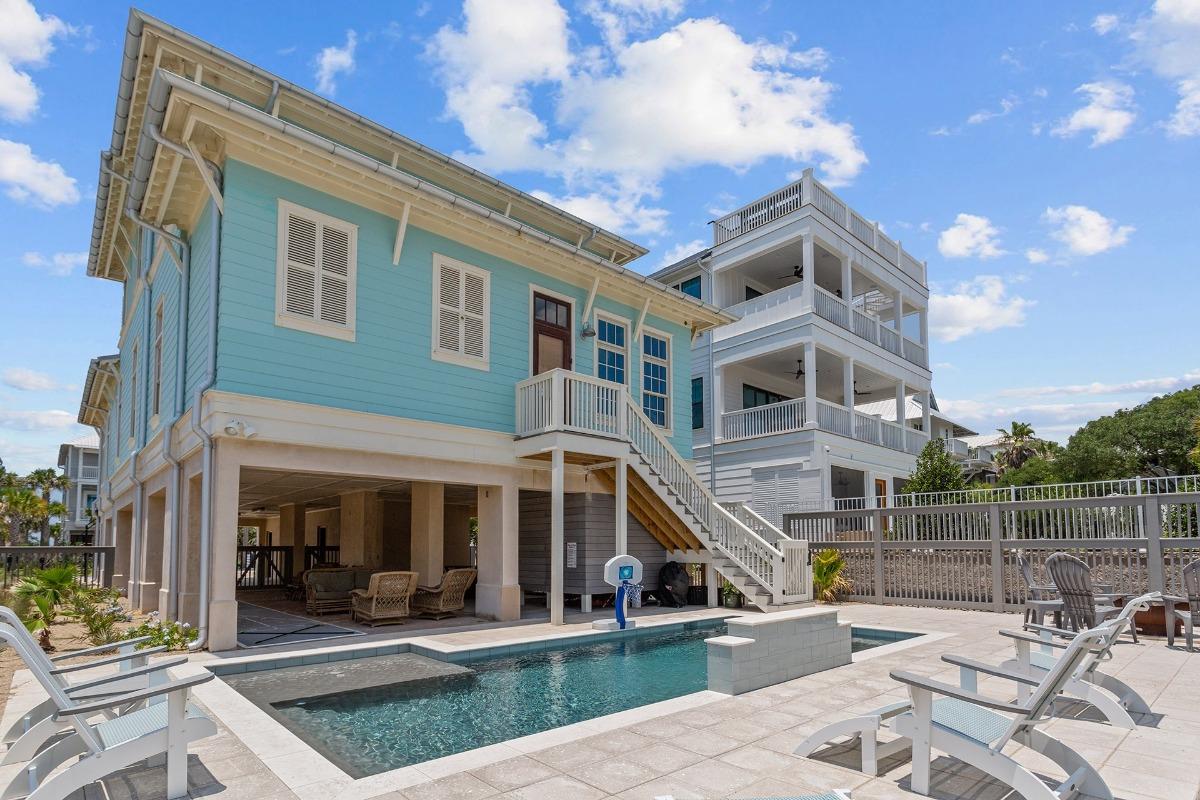 From the moment you step into this 5-bedroom, 4-bath wonder, you'll realize you're in for a treat. With enough room to host 14 beach-loving guests, this is not just a house; it's a private resort! Oh, did we mention the 28x12 foot private pool that is out right amazing? You'll definitely want to dive into this oasis, complete with a cascading waterfall and a sun-soaked patio featuring lounge chairs perfect for those laid-back pool days.
But what's a beach vacation without some sandy shores? A breezy stroll from the property lands you right in front of the sugary shoreline, vibrant shops, and buzzing restaurants. The sparkling jewel-toned gulf waters and the picturesque Western Lake - a coastal dune lake teeming with wildlife and a hub for fishing and water sports - are literally your neighbors. You couldn't ask for better, right?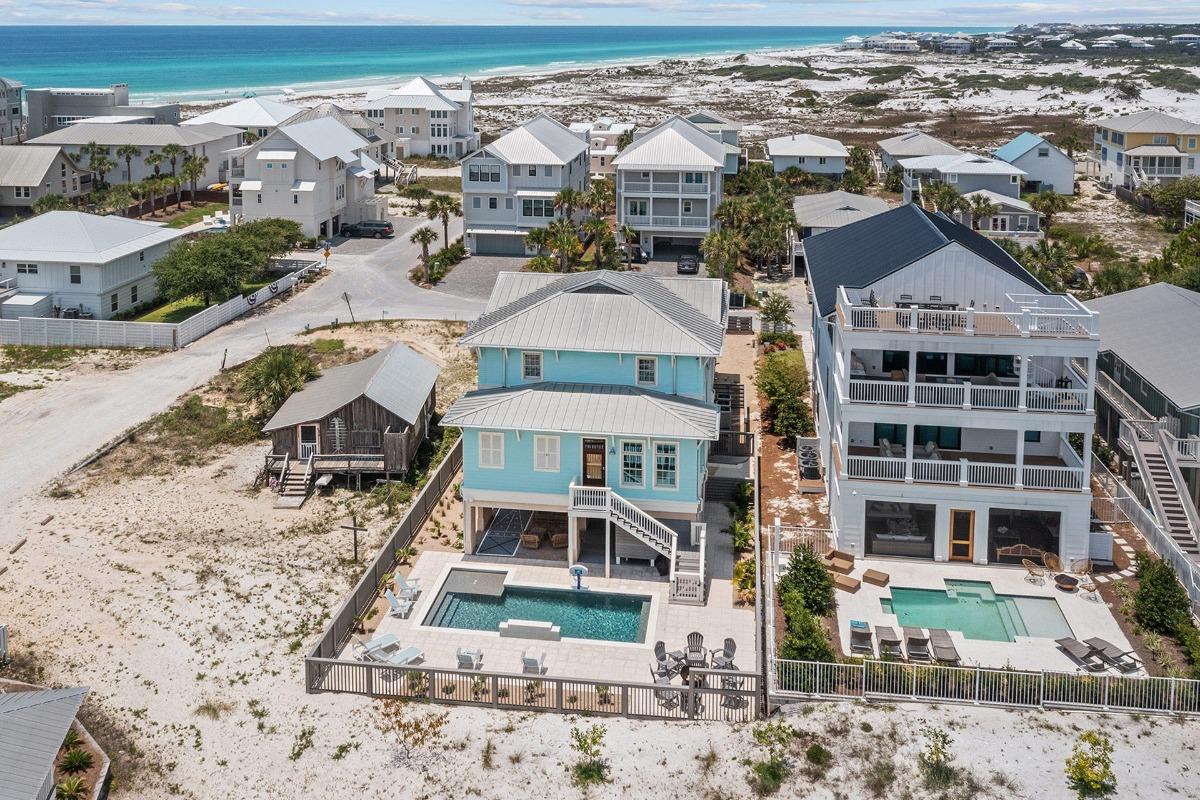 Want to know the secret sauce of Blue Palmetto? It's the perfect blend of nature, comfort, and convenience that this home offers. Picture this: the sun's just set, you're by the poolside fire pit, shuffleboard in hand, your favorite tunes playing in the background. Bliss! And that's not all; there's a cabana with a dressing area and a shower, ensuring you go from pool to party in minutes!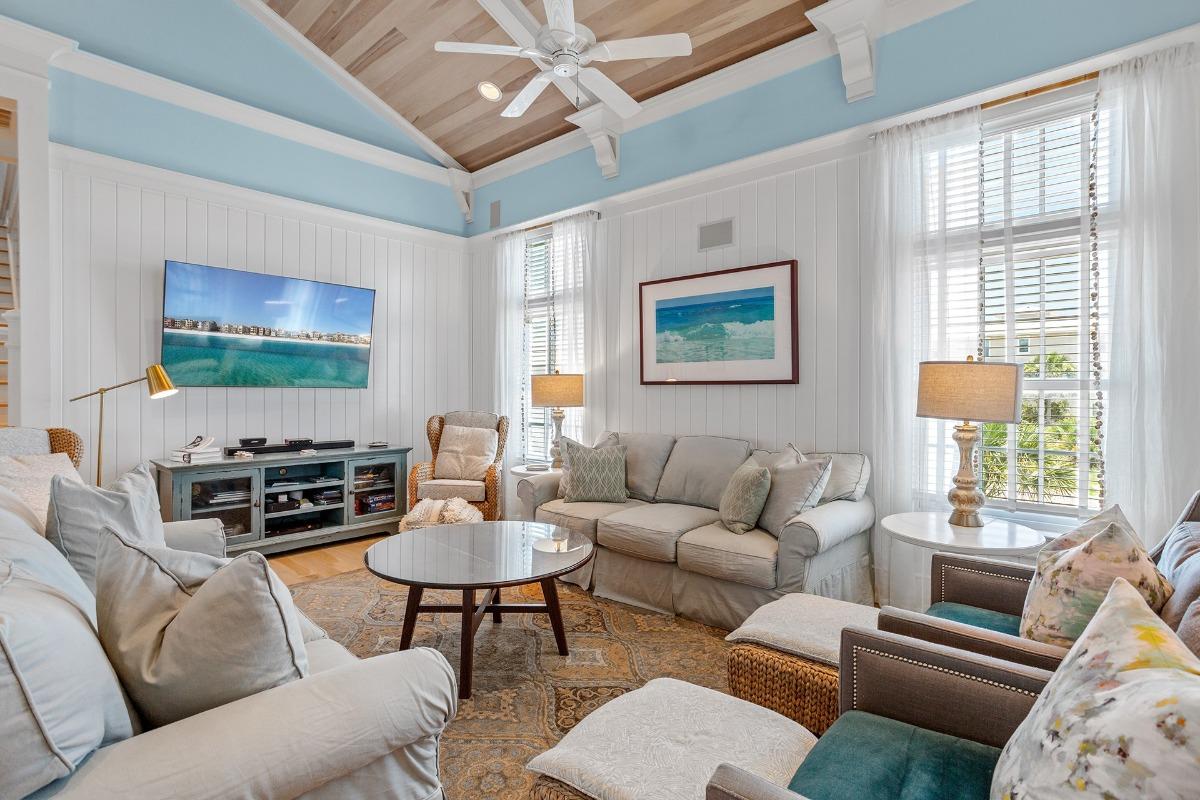 And speaking of parties, the home's main open living, dining, and kitchen area is straight out of a dream. Think cathedral ceilings accented with natural hardwoods and white truss beams, a mix of fashionable furnishings with coastal and country styling, and art that captures the very essence of sea life. Now that's what we call living in style!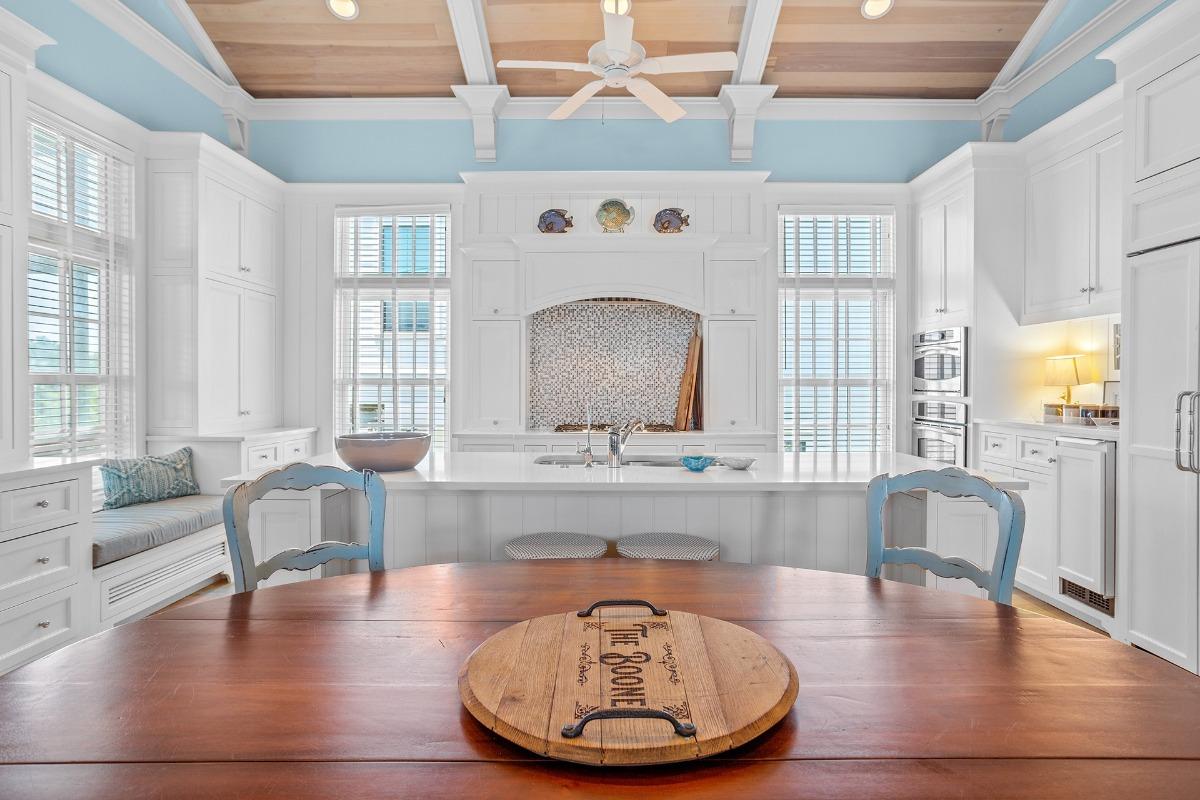 The kitchen is a foodie's dream, boasting creamy white cabinetry and upscale appliances that include a commercial-size gas range and double oven. The dining table, made of rich hardwood and paired with regal chairs, sits in a strategic spot – right between the open living and kitchen area. So whether you're cooking up a storm or just chilling, you're always part of the action. And when you want to take things outdoors, there's a large, furnished screen porch waiting for you.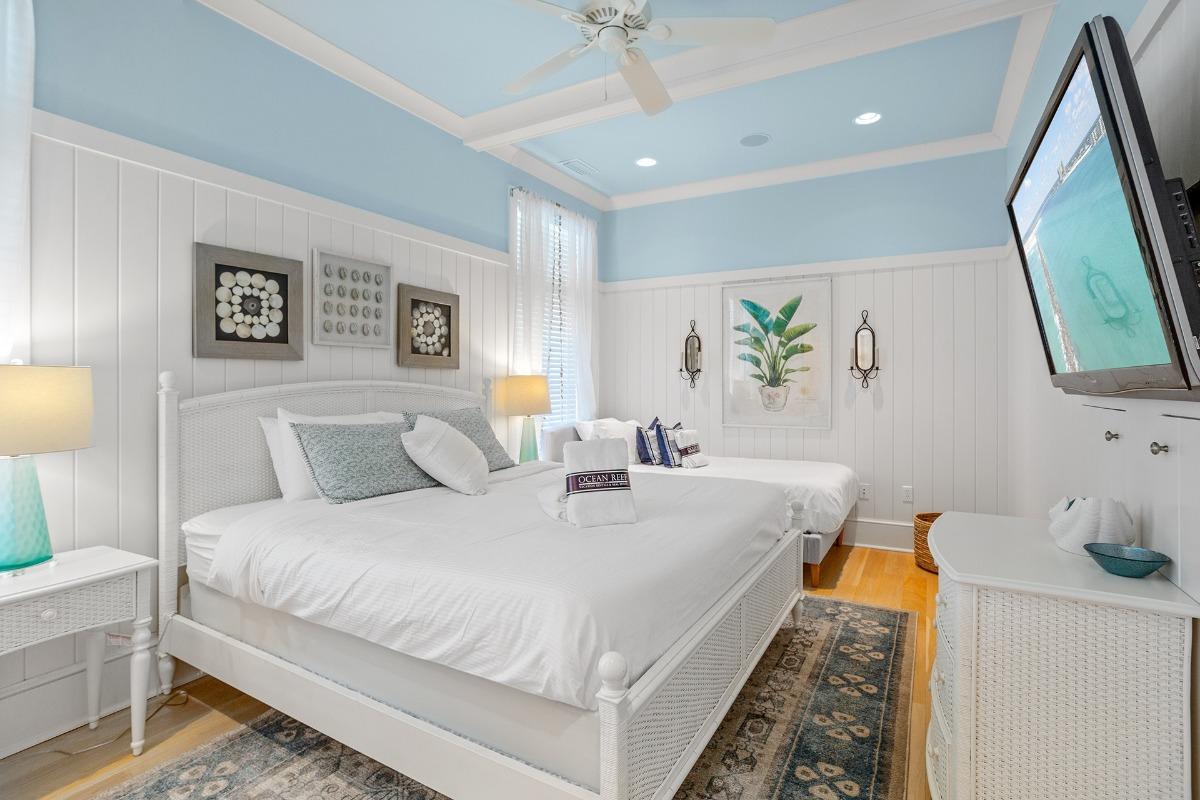 But wait, we haven't even started on the bedrooms yet! From king and queen-sized beds to ensuite baths with walk-in showers and soaking tubs adorned in white marble, you'll feel like royalty. Not to forget the breathtaking beach views that you can bask in right from the bedroom windows! There's also a lofted bonus den with a couch, a flatscreen TV, and a tabletop foosball for when you're in the mood for some friendly competition.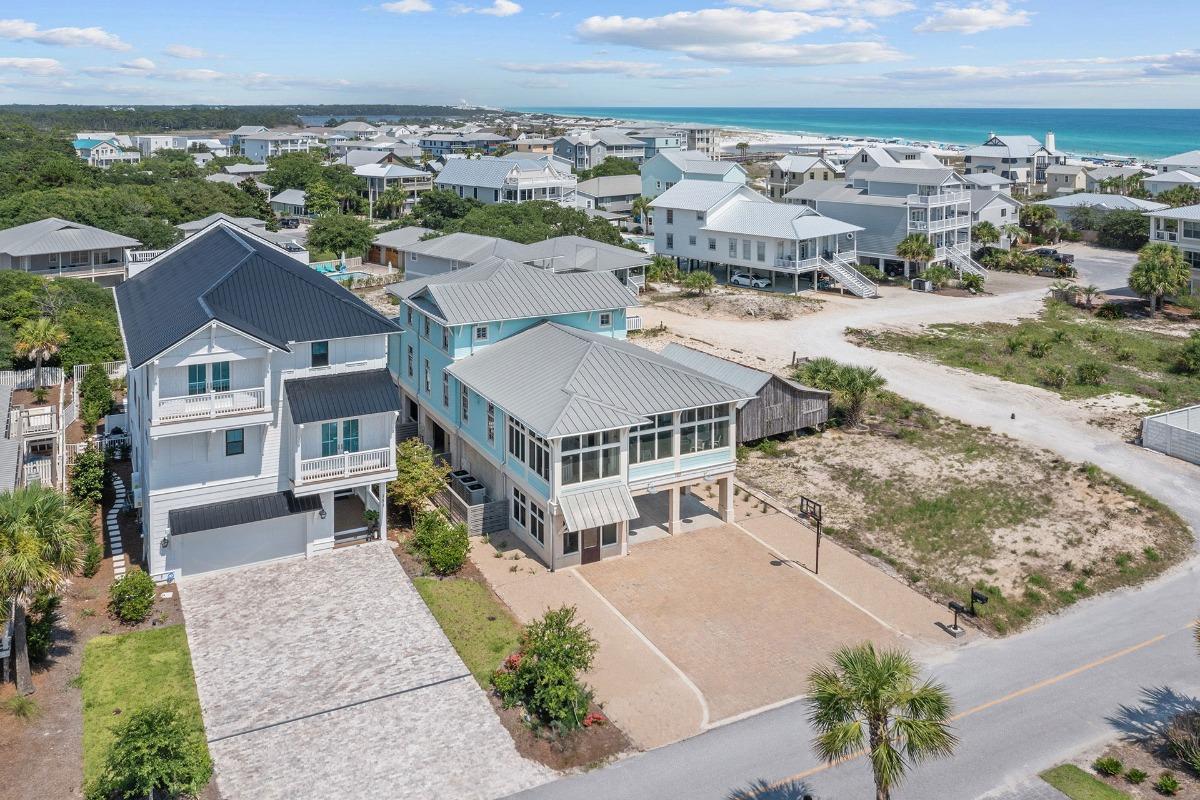 Located just a stone's throw away from the village center, this laid-back Grayton Beach setting will give you a nostalgic glimpse of golden years gone by. From the famous Red Bar featuring great food and live musical entertainment to Chiringo's Restaurant & Bar offering Spanish Tapas and seasonal entertainment, there's something for everyone.
That's all for now, folks! Blue Palmetto at Grayton Beach is waiting for you to make unforgettable memories. So, what are you waiting for? Pack your bags, and let's go! Stay tuned for more exciting travel adventures. Until next time!