Grayton Conch vs Grayt Oasis
It's no secret that Grayton Beach is a popular destination for those looking for a laidback beach getaway. With convenient access to the snow-white sands, friendly locals, artsy shops and boutiques, outdoor nature experiences, and fun restaurants and bars, it's not hard to make the decision to vacation here. The difficult part is picking where to stay in Grayton Beach because, let's face it, there are just so many grayt (yes, we had to do it) options!
If you're looking for a quiet escape surrounded by nature in an exclusively gated neighborhood, Grayton Landing just might be the spot for you. Grayton Landing is a newer neighborhood located near the town's historic village center. The residential enclave's six multi-million-dollar homes sit right on the edge of Western Lake, one of 30A's pristine coastal dune lakes. These lakes are common along this short stretch of coast, but a rarity in the rest of the world, making this community's waterfront location that much more of a luxury. With its perfect setting and beautiful homes, it's no surprise that this quiet little oasis has been featured in Coastal Lifestyle Magazine.
Designed by local architect Geoff Chick and built by Luke & Blue's custom home builders, the three-level homes in Grayton Landing radiate beach elegance and poise. The homes' exteriors include white trim and breezy balconies that are quintessential to beach living. Inside, each residence features an open living space, sunny windows, and five bedrooms with private baths. Stunning nature views from the home, community dock and pool, and the beach make this neighborhood one worth considering for your next vacation.
Though each home was designed with the same architectural features and floorplan, the interior of each boasts its own unique personality. Take a look at Grayton Landing's Grayton Conch and Grayt Oasis to find out which speaks to you. Then, we can help you book your stay at either of these beautiful lakefront properties!
Grayton Conch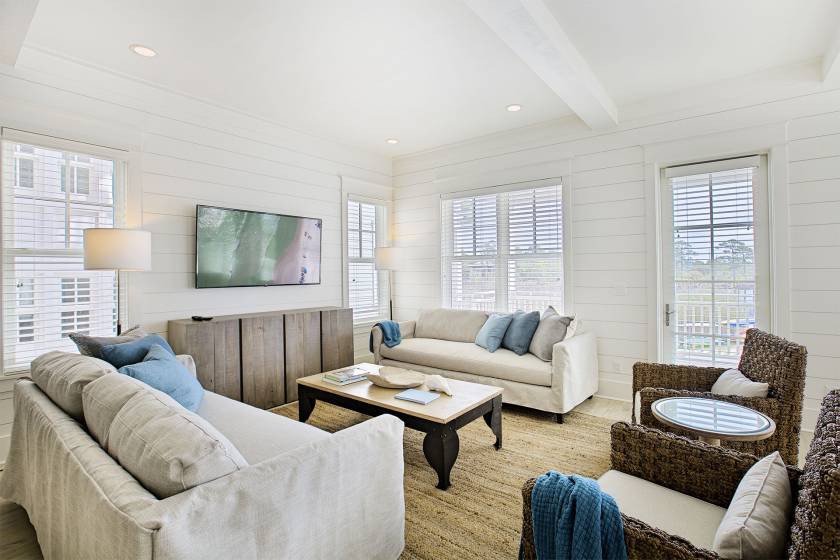 Upon stepping across the threshold into the open living area of Grayton Conch, you'll immediately feel relaxed and at home. Large windows create a warm and welcoming atmosphere, while shiplap walls add to the beach chic feel. The living room features two tan couches with different shades of blue throw pillows, two wicker armchairs, and a rectangular coffee table. A flatscreen TV is mounted above a wooden credenza. Honey-toned wood floors extend into the sunlit dining area. Here, six high-backed wood chairs encircle a cottage-style dining table, which sits beneath a stylish and beachy chandelier. The elegant kitchen has light gray cabinetry, stainless steel appliances, sleek countertops, and a kitchen island with four saddle-topped stools. Of the home's five bedrooms, there are three with king-size beds and private, luxury baths. The remaining rooms include one with a queen-size bed and a bunk room with two twin bunks. All in all, the home can sleep up to 14 guests. With this many vacationers, you'll definitely find yourself spending a lot of time in the first-floor, open-air game room. It includes a ping pong table, outdoor furniture, a wet bar, TV, and ceiling fans.
Grayt Oasis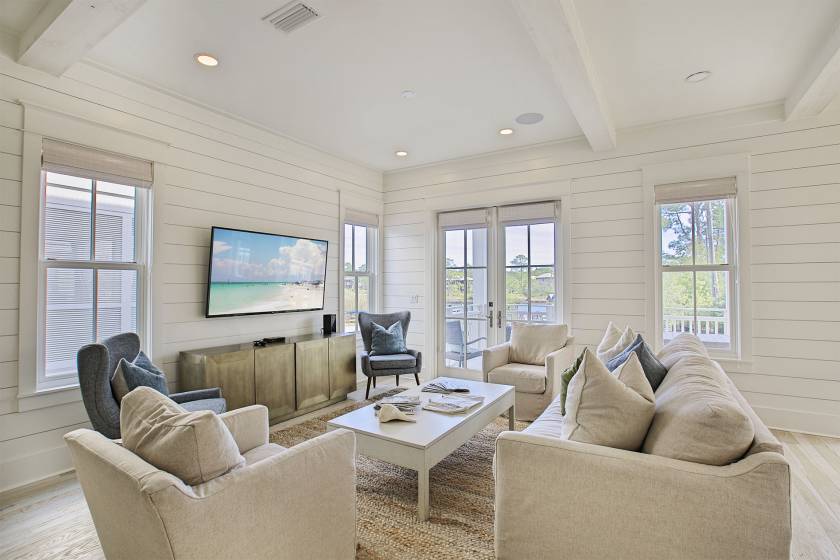 Grayt Oasis is another of Grayton Landing's homes that mix beach luxury with casual coastal relaxation. With spacious accommodations and sleeping arrangements, the residence can host up to 12 vacationers. The main floor's open great room features shiplap walls, light wood flooring, and subtle tropical accents. The living room is the perfect place to hang out with your fellow guests. It includes a comfortable seating ensemble with a sandy-colored couch, matching armchairs, and two navy-blue accent chairs. This is centered around a white drink table and faces a wall-mounted TV. In the dining area, there are five chairs with gray slipcovers seated at a round table, all situated beneath a classic black chandelier. The open kitchen gives off subtle nautical hints, with blue cabinetry, white counters, and a white-and-cream tiled backsplash. In addition to the great room, there is a king-size master suite on the first floor. Another master suite is located upstairs, and this one also has balcony access and a private bath. Of the guest bedrooms, there is one with a king-size bed, one with a queen-size bed, and one with two twin bunks. Each of the en-suite baths are elegant, featuring glass-walled showers or tub/shower combos. A bonus den on the fourth floor has a wet bar and opens onto the furnished, top-level balcony. Grayt Oasis also has a screened-in game room on the first floor with a paver patio, picnic table, casual seating area, ping pong table, a wet bar, and a mounted TV.
Ready to plan a memorable stay in Grayton Beach's exclusive Grayton Landing community? Don't wait to book your stay. These homes are popular—and for a good reason—so you'll want to reserve your 30A vacation as soon as possible!