30A Vacation Homes with Yard Games
There's a lot to love about a beach vacation to South Walton, but getting a rental with extra amenities makes it that much better! Your beach house will be your home-away-from-home during a coastal getaway. So, it should be comfortable and laidback, making it easy to relax and unwind with your fellow vacationers. You can find homes with Gulf-front views, convenient beach access, and even private pools. But a couple of 30A homes go even further to make your stay fun and memorable by providing exciting yard games. Even when you're not on the beach or exploring the surrounding area, you still have something to do. Plus, beating your family and friends at Cornhole is always a blast, and who doesn't love bragging rights?
Check out these two 30A vacation homes with yard games, and see if they've got everything you need for your next beach escape.
All Laid Back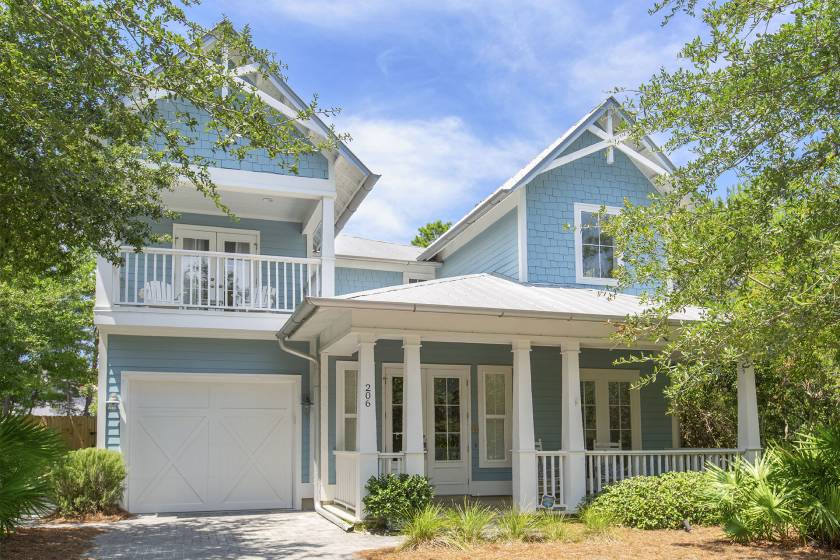 You'll certainly feel all laid back when you book a stay at this secluded home in Seagrove Beach on Scenic 30A. All Laid Back is a two-level beach house with four well-appointed bedrooms, and it can sleep up to ten guests. The blue exterior with white trim immediately puts visitors into a vacation mindset. This home's spaciousness and amenities ensure a fun and relaxing stay. The covered private pool area is a favorite hangout spot. Here, you'll find comfortable lounge furniture, an outdoor kitchen and dining area, a flatscreen TV, and a giant Connect 4 game. There are more yard games in the shaded backyard. Challenge your guests to a friendly competition of Cornhole or Tiki Toss. When you're ready to relax indoors, head into the expansive great room with soaring ceilings and sunny windows. Whether you're watching the football game on the wall-mounted TV, dining at the hardwood table, or mixing cocktails at the kitchen bar, you'll love the spaciousness and easy-going vibe.
View of Blue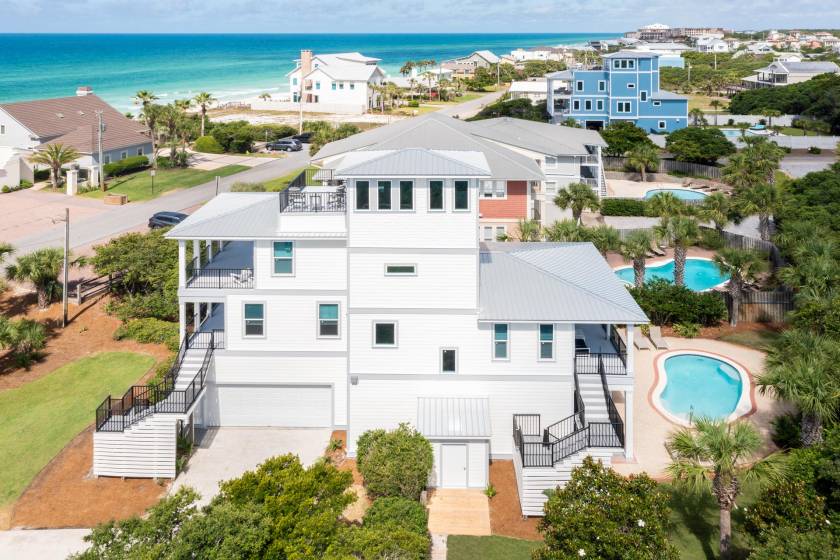 Enjoy gorgeous Gulf views from the breezy balconies of View of Blue, an elegant beach home across the street from the shimmering shores in Blue Mountain Beach. This four-bedroom house can host up to thirteen beachgoers. The stately home not only boasts great views and accommodations but a private pool and yard games as well. After a day at the beach, there's nothing more relaxing than coming back to your own pool to soak up some sun and enjoy a refreshing swim. Another fun way to top off the day is with a Cornhole or Horseshoes tournament. Grab your fellow vacationers and see who can claim the title of Yard Game Champion. In addition to the pool and outdoor games, the house has a fourth-floor observation deck that faces the Gulf and is furnished with comfortable lounge chairs. Here, you can take advantage of incredible views from sunrise to sunset while sipping your favorite drink and enjoying the company of your family and friends.
If you decide to book your stay at a different 30A vacation home, don't worry—you can still get the backyard game experience. The Beach Butlers and VayK Gear are two companies that offer yard game rentals and delivery right to your door. The Beach Butlers is a local business that delivers everything from groceries to yard games to paddleboards to baby rentals all across the Gulf Coast. They strive to provide excellent, personal customer service so you can make the most of your beach vacation. VayK Gear is a 30A service that rents quality beach gear, including kayaks, paddleboards, bikes, and games. You can get daily, weekly, and monthly gear rentals and even schedule delivery/pick up for different items on different days. Talk about convenience!
If you're ready to plan a fantastic beach trip, consider renting one of these 30A vacation homes with yard games. Or, if you've already booked elsewhere, reach out to The Beach Butlers or VayK Gear so you can add "making yard game memories" to your vacation checklist. It's all fun and games until… oh, wait; it's always fun and games when you visit the beautiful beaches of South Walton!