Welcome to the serene and picturesque shores of Dune Allen Beach, Florida! Today, we'll be showcasing two grand vacation homes that offer the perfect blend of luxury, comfort, and coastal charm. First, we present Happy Days, a 7-bedroom beachfront home with a private pool that comfortably accommodates 18 guests. Second, we introduce Soleil All Day, a brand-new mega home boasting 8 bedrooms, a massive pool, a game room, and a 4th-floor rooftop observation deck. Nestled on (or near) the emerald waters of the Gulf of Mexico and pristine white sand dunes, these spacious 30A retreats provide an idyllic setting for a dreamy beach getaway. Rivard by Ocean Reef Vacation Rentals is a renowned rental management company committed to delivering exceptional vacation experiences tailored to your needs. So, sit back, relax, and let us whisk you away on a "virtual" tour of these two magnificent (and big) Dune Allen Beach vacation homes that are bound to leave you yearning for an unforgettable sun-kissed holiday.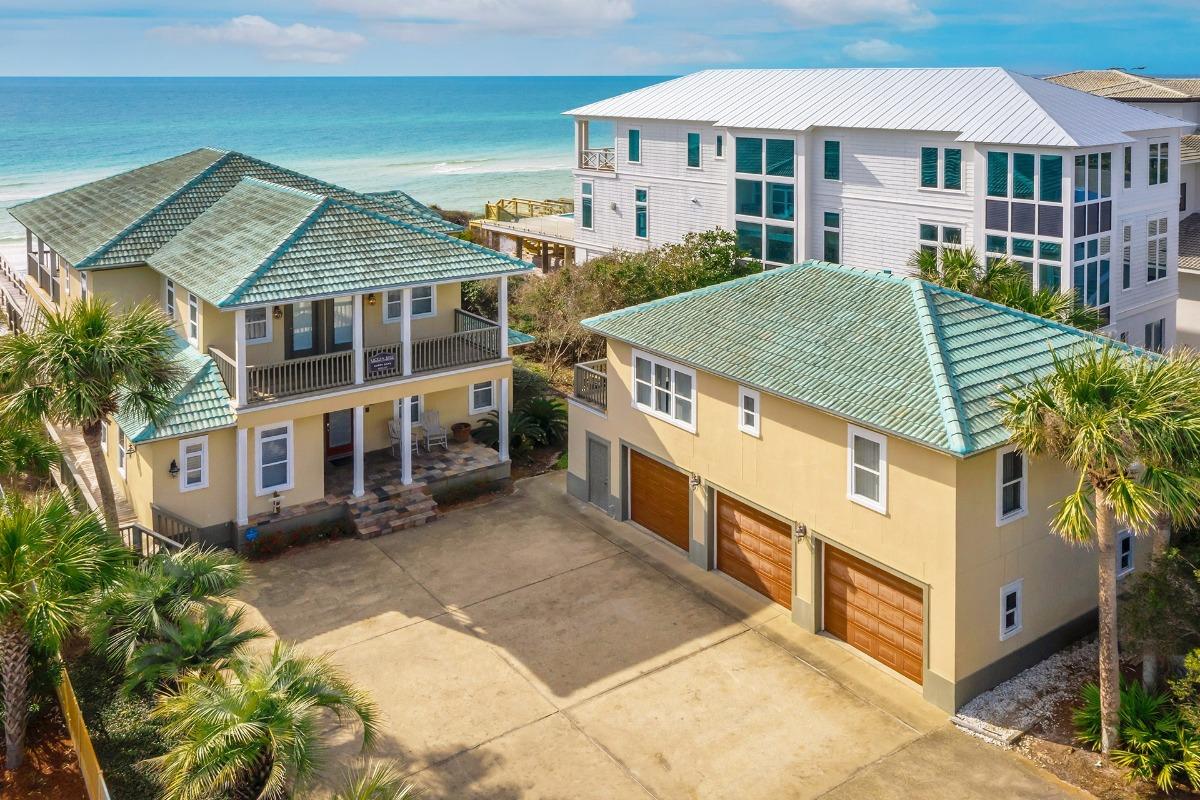 7 Bedrooms / 7 Bathrooms / 18 Guests
Embrace the splendor of beachfront living in Happy Days, a majestic gulf front vacation home ideally situated off Scenic 30A in Dune Allen Beach. Featuring seven luxurious bedrooms, this expansive retreat comfortably sleeps up to 18 guests, making it the perfect destination for a memorable family reunion or getaway with friends. The main residence boasts five bedrooms, while the charming carriage house offers two additional bedrooms, a living area, and a full kitchen. Each bedroom is complemented by a private ensuite bathroom, ensuring guests' utmost comfort and privacy.
This big beachfront Dune Allen vacation home stands proudly atop a pristine dune, offering unparalleled panoramic views of the glistening gulf and its enchanting white-sand shore. The rental features an upper-level wraparound balcony and a first-floor columned porch that leads to a spacious sundeck centered around a refreshing pool. Within minutes, guests can transition from poolside relaxation to the tranquil embrace of the gulf's azure waters. The sunsets and full moon views from this exceptional vantage point create a magical atmosphere, perfect for romantic moonlit strolls along the shore.
The elegantly appointed open living area includes plush furnishings, decorative art, and a wall of windows that bathes the room in natural light. The space offers ample seating for relaxation and entertainment, while the regal dining table and elegant gaming table accommodate mealtime gatherings. The crisp, white kitchen features a sleek granite-topped bar, seating, and modern appliances for all your culinary endeavors. Each bedroom is tastefully decorated, with the primary and guest bedrooms upstairs enjoying access to the beach balcony. The luxurious primary bath boasts double vanity sinks, a walk-in shower, and a marble-tiled garden tub. The carriage house, designed with a cozy cottage ambiance, offers a spacious living area, full kitchen, and dining table.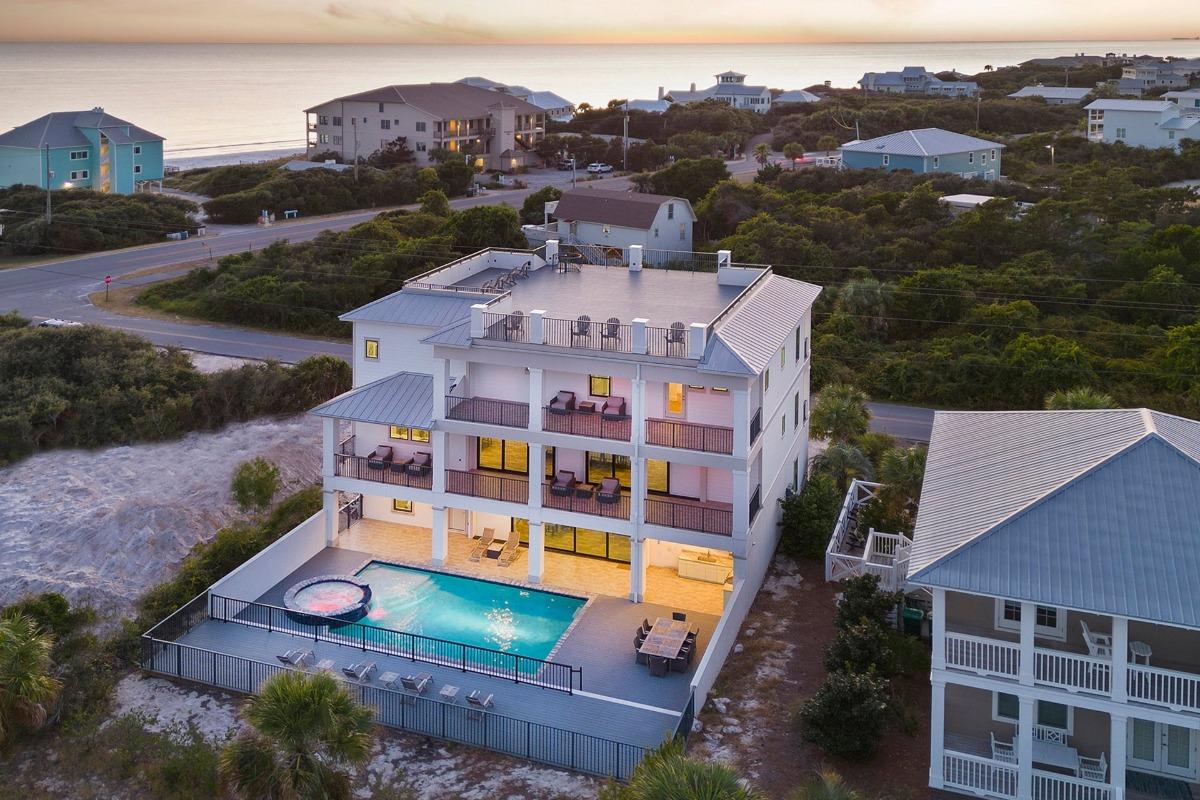 8 Bedrooms / 8 Full & 2 Half Bathrooms / 24 Guests
Soleil All Day offers the ultimate vacation experience at this exquisite, recently completed Dune Allen Beach home. With eight luxurious bedrooms, sleeping up to 24 guests, this three-story haven offers stunning 360-degree views of the gulf and coastal dune lake from its rooftop observation deck. Soleil All Day provides easy beach access, a private 20'x30' swimming pool, and a six-seater golf cart and bicycles for your convenience. The outdoor area features a poolside veranda, tables and chairs for dining, and a gas grill for family barbecues.
Inside, the first level boasts a spacious game room, a built-in bar, and two elegant guest bedrooms with ensuite baths. The second floor houses the main living areas, with sliding glass doors that open onto a balcony overlooking the pool and lake, a state-of-the-art kitchen, and two more guest quarters. The top floor features four lavish guest suites with private balconies and luxury ensuite baths, as well as a bonus den with a sleeper sofa and TV.
Dune Allen Beach, located on Scenic Highway 30A in South Walton, is a true gem characterized by its abundance of preserved natural beauty. This close-knit beachside community is surrounded by the breathtaking Topsail Hill Preserve State Park and three of South Walton's rare coastal dune lakes - Allen, Stallworth, and Oyster Lake. These dune lakes provide the perfect opportunity to kayak, fish, bird watch, and paddleboard while basking in their unique and tranquil atmosphere.
While Dune Allen Beach is known for its quieter ambiance, it still offers convenient access to shopping, dining, and nightlife along 30A and nearby Destin. Spend a leisurely evening at Gulf Place, where you can peruse artisanal boutiques, savor a delicious meal, and enjoy a free concert on the green.
Don't wait any longer to experience the enchanting allure of Dune Allen Beach and the luxurious comforts of our featured big vacation homes, Happy Days and Soleil All Day. It's time to create unforgettable memories with your loved ones in this coastal paradise. Browse our selection of 30A vacation rentals at Rivard by Ocean Reef Vacation Rentals and secure your dream getaway today. Your sun-kissed escape is just a click away!