Three Neighboring Gulf-Front Homes in Old Florida Beach
Head back to a time of forgotten days when life was simple, and neighbors greeted each other with cheery waves. Located in Santa Rosa Beach, the charming Gulf-front neighborhood of Old Florida Beach includes picturesque views, access to Draper Lake, and a community pool. Its secluded location and small-town feel are perfect for a quiet and relaxing vacation, but with the added benefit of nearby conveniences like restaurants, shops, and grocery stores.
With multiple vacation rentals available in Old Florida Beach offering beachfront views and fantastic amenities, you're sure to have an outstanding vacation with cherished memories. These three neighboring Gulf-Front homes feature walkovers to the beach, expansive floorplans, Gulf-front balconies, comfortable bedrooms, and accommodations for 12 to 14 guests. If you're planning a trip for a smaller party, any of these homes could be perfect for you! Or, if you're planning a multi-family or multi-group vacation, you could always book these beautiful rental homes that are right next to each other!
Abandon All Cares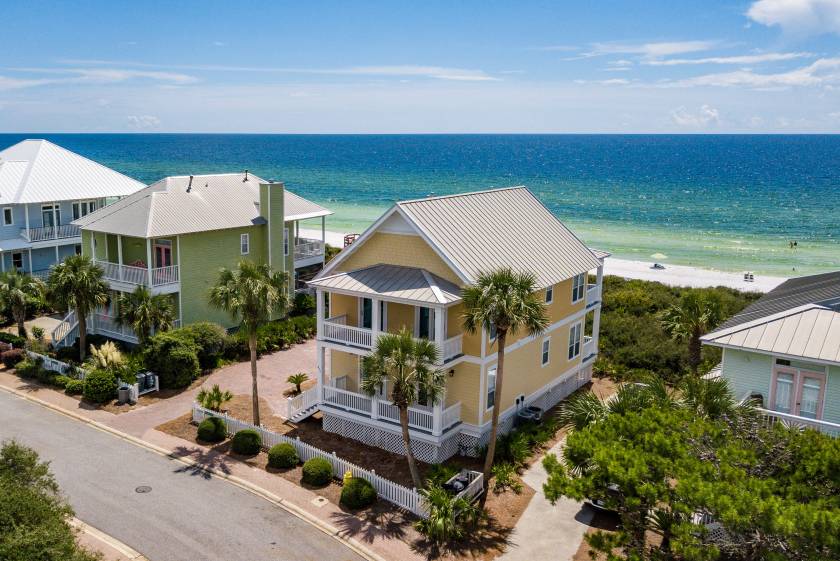 Abandon All Cares is a beautiful, two-level beachfront home with four bedrooms and three baths. It can host up to 12 visitors. The pale-yellow exterior with white accents, tropically landscaped property, and sunny interior radiates vibrant, coastal energy. Both floors feature dedicated living and sleeping space—which is convenient for vacation groups with multiple families. Leather couches and chairs create a cozy seating ensemble in the first-floor living area, and glass doors open onto a waterfront balcony. The full kitchen and dining area are spacious and perfect for casual vacation meals or fancy homecooked feasts. Upstairs, a matching floorplan includes a bonus den with seating, a twin day bed with a twin trundle, a dining room with a cottage-style table, and a kitchen with a breakfast bar. Downstairs, one bedroom has a king-size bed, while the other has two queen-size beds. The guest bedrooms share a hall bath. Upstairs, you will find two queen bedrooms, one of which has a private bath. Additional home amenities include a private boardwalk to the beach and access to the community pool.
Shore-E-Nuff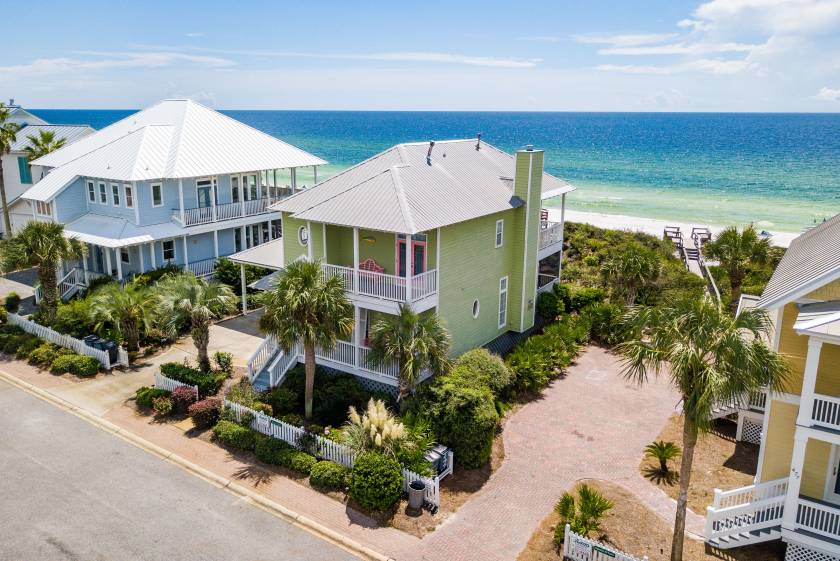 Located next door to Abandon All Cares, Shore-E-Nuff is a tropical rental property with four bedrooms and four baths. The two-level home can accommodate up to 14 beachgoers. The home's first level comprises a spacious, open floorplan with floor-to-ceiling windows and glass doors, creating a warm and inviting atmosphere. Coastal-inspired furnishings and décor add to the tropical ambiance. The living room includes a straw-backed couch, a matching armchair, and two accent chairs with colorful cushions. Hardwood flooring flows into the sunlit dining area, with a white-topped dining table and seating for eight. The updated kitchen is fully equipped with stainless-steel appliances, granite countertops, ample storage space, and an angled breakfast bar with stool seating. Guests can access a beachfront screened porch from the large great room. A second sitting area is located upstairs and has a queen-size sleeper sofa, twin bunks, and a TV. A king master suite is located on the first floor, while the second floor includes another king suite, a guest room with two twin beds, and a bunk room for the kids.
Kokomo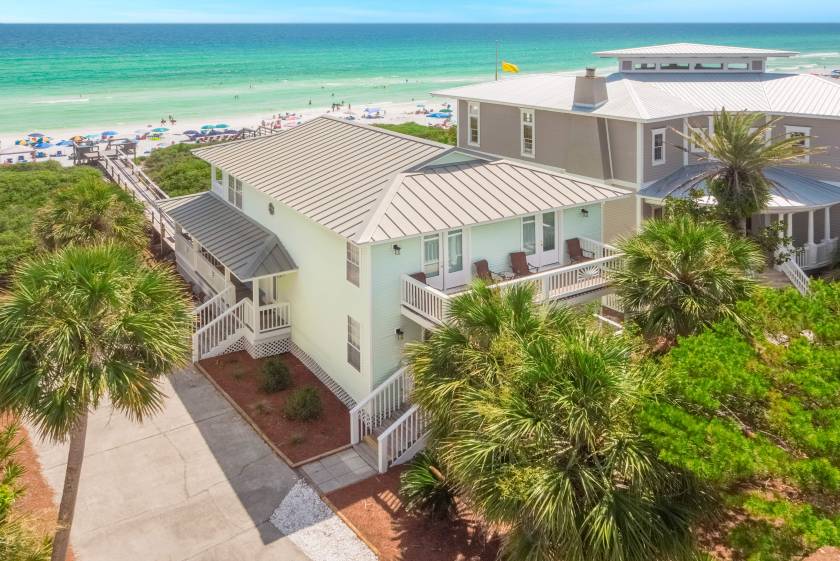 You want to go to Kokomo—the one in Santa Rosa Beach, that is! The Kokomo beach rental in Old Florida Beach has five bedrooms, five baths, a sunny living space, and peaceful sleeping quarters. It can entertain up to 14 beach vacationers. The first-level great room features sandy-toned walls, tile floors, elegant coastal décor, and access to a beachfront deck. In the living room, a white armchair complements dark leather couches. The casual seating setup surrounds a large drink table and faces an armoire that houses a flatscreen TV. The adjacent dining room has a white table, six cottage-style chairs, and extra seating. Next to the dining room, the kitchen has a bar with additional stool seating, stainless steel appliances, honey-toned counters, and ample cabinet storage. Downstairs, you will also find two guest bedrooms, both of which include two queen-size beds and share a hall bath. The remaining bedrooms are on the second level. One features a king master suite with a beachfront balcony, private bath, sitting area, and wet bar. The last two guest bedrooms each include a queen-size bed.
If you're in the process of planning your next 30A vacation, don't overlook the amazing community of Old Florida Beach! These Gulf-front homes are picture-perfect, and you're sure to make lifelong memories with your fellow beachgoers when you book a stay here.