Three NatureWalk Vacation Homes
One of the best parts about a beach vacation is the experience of being outdoors and in nature. From the shimmering waves of the Gulf to the rich tropical vegetation that makes up Northwest Florida, a South Walton vacation offers ample opportunities to get outside and enjoy the world's natural beauty. The NatureWalk community in Seagrove Beach on Scenic 30A, in particular, ensures that locals and visitors alike have convenient access to the coast's great outdoors.
NatureWalk is a master-planned community that covers more than 150 acres. Tucked in a private enclave on 30A, the neighborhood is quiet and peaceful. Surrounded by protected forests and flora in Point Washington State Forest and only a short distance from the beach, it's no surprise this community was named "NatureWalk." Visitors can go for nature walks along walking paths, bike along shaded trails, birdwatch, and spot wildlife. You can also fish, kayak, or paddleboard at the nearby coastal dune lakes. Being in nature is the perfect way to reset, forget your worries, and enjoy living in the moment. And, fortunately, NatureWalk lets you do just that!
Other NatureWalk amenities include community pools, a hot tub, children's playground, BBQ grills, a community fire pit, and putting green. With neighboring beach communities close by, as well as plenty of dining and shopping options, you can have the best of both worlds. Bask in the solitude of nature while also enjoying access to convenient modern amenities.
We are happy to have vacation homes in this neighborhood that are great for our nature-loving, adventure-seeking, beach-going guests. Check out these three NatureWalk vacation homes in Seagrove Beach, and see if they're available for your next vacation!
Cole Beck's Cove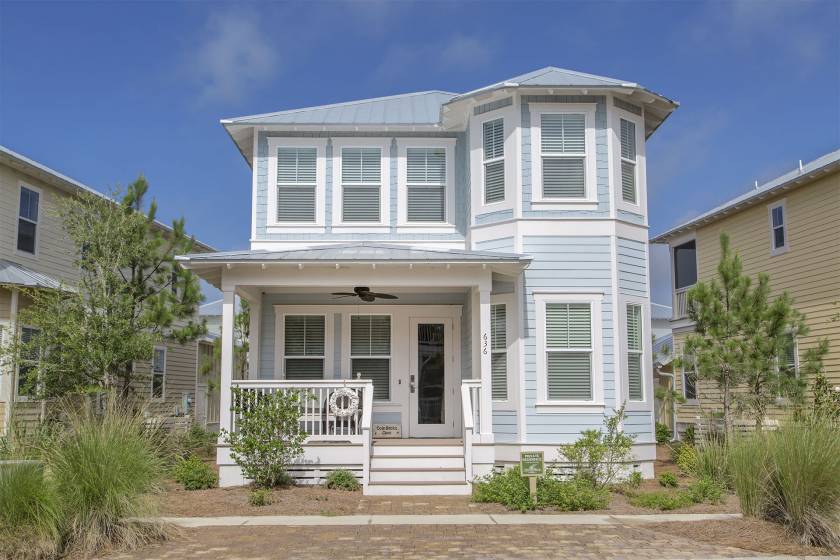 Cole Beck's Cove is a cute, two-level vacation home with four bedrooms, and it can sleep up to ten visitors. A pale-blue exterior with white trim and a cozy front porch radiates coastal charm and beckons guests to come inside and relax. The main living area gives off a chic beach vibe, featuring light-blue couches, coastal décor, and partial shiplap walls. Sunny windows allow ample sunshine to brighten an intimate dining nook with a round table and high-backed chairs. The kitchen is modern with white cabinetry, a granite-topped breakfast island, and stainless-steel appliances. Each bedroom is comfortable and well-appointed. The master suite is located on the first level and includes a king-size bed and private bath. The remaining sleeping quarters are on the second floor. Two guest bedrooms have queen-size beds, while the third is a kid's room with a twin bunk and access to a bonus den.
Sun Star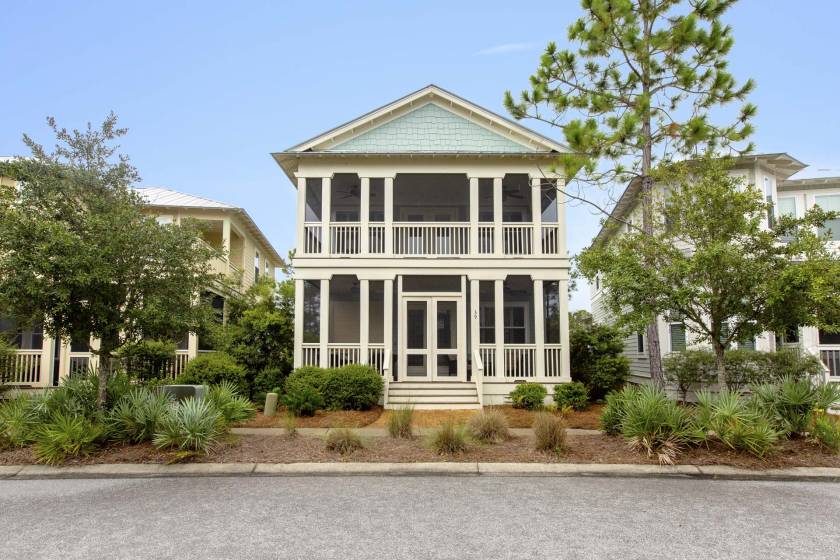 Sun Star is a charming vacation residence with two levels of comfortable accommodations and breezy balconies. The home has four bedrooms and can entertain up to ten vacationers. Large sunny windows and natural sunlight characterize the interior to create a bright and inviting atmosphere. Exactly what you want for a relaxing beach vacation! In the living room, a wraparound couch and striped armchair face a wall-mounted TV. Next to the living area, a dining table and pale-green high-backed chairs make up a cozy space for mealtimes. Hardwood floors extend into the kitchen, where you will find white cabinets, stainless steel appliances, and an island with raised seating. The sunny great room shares the first floor with a guest bedroom, furnished with a king-size bed and a private bath. Upstairs, the master suite also has a king-size bed, luxury bath, and access to a covered porch. The two remaining guest bedrooms include a queen-size bed and a queen bunk.
Cinnamon Fern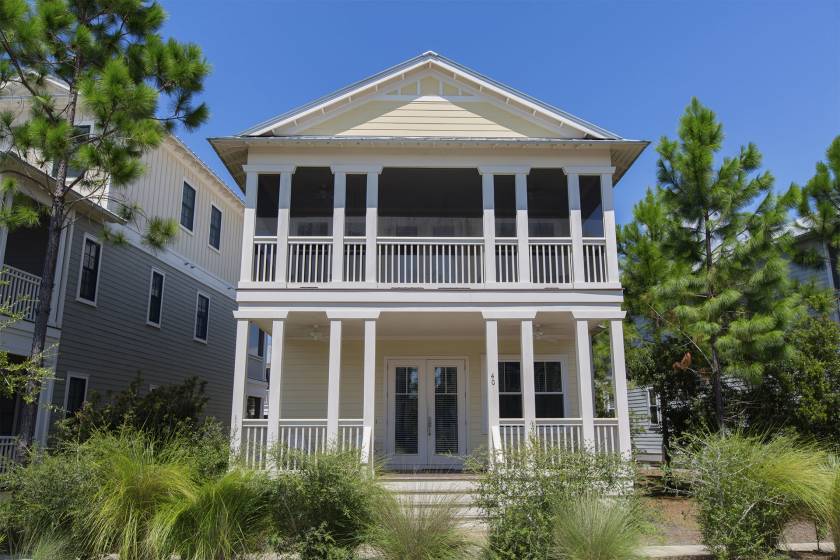 Cinnamon Fern is another NatureWalk home with four bedrooms and three and a half baths. It can accommodate up to 10 beachgoers. The pale yellow exterior is complemented by white trim. The entire residence looks right at home among the ferns and tropical flora. Inside, sandy-toned paint, partial shiplap walls, and hardwood floors give off a coastal feel. The living room features a cozy seating ensemble made up of a brown couch and loveseat. A handsome square table is surrounded by six patterned chairs and additional bench seating in the dining area. The kitchen includes a breakfast island, stainless steel appliances, a uniquely tiled backsplash, and industrial-style light fixtures. On the first floor, the king-size master suite boasts a private bath with a walk-in shower, as well as access to a back porch. Upstairs, you will find a king bedroom, queen bedroom, and a bunk room with a full bunk. A bonus den with a TV and desk area provides convenient space for both work and fun.
If you haven't booked a stay for your next 30A vacation, consider staying in the lovely NatureWalk community. Not only are the homes comfortable and relaxing, but you will also have the opportunity to make amazing vacation memories.