If you've booked a beach vacation to 30A, then you probably already know there's plenty of fun to be had in this little slice of paradise. You can enjoy everything from lounging on the beach, shopping, casual and fine dining, exploring local artists and galleries, and so much more. There are also ample opportunities for family fun just down the road in Panama City Beach. Only a short drive from your 30A vacation rental, Panama City Beach is the perfect place for a fun day trip with your family. With water parks, family recreation centers, educational activities, outdoor nature fun, and more, Panama City Beach is worth a visit when vacationing along the beaches of South Walton.
Check out these fun family day trips to Panama City Beach and start planning your next family adventure!
Amusement & Water Park Excursion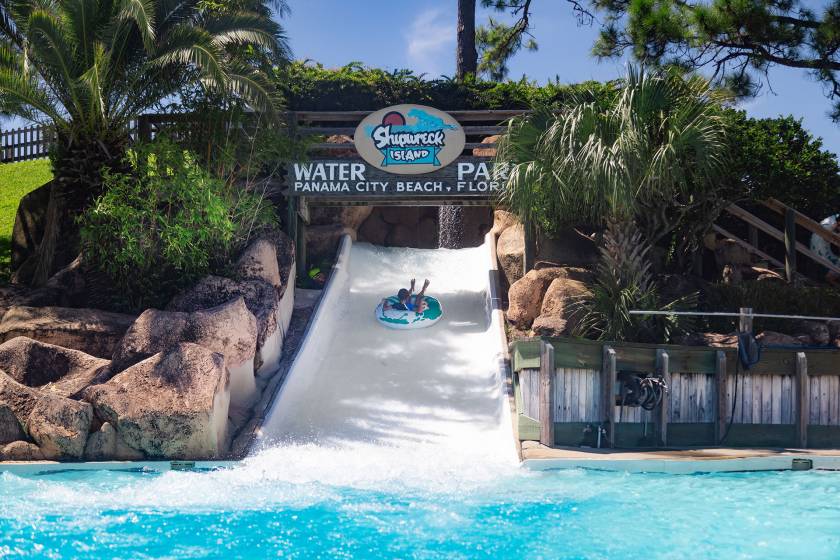 Does your family love to laugh and play together, all while getting a little dose of adrenaline? If this sounds like your family, then you should definitely check out the fun adventure parks located in Panama City Beach.
Shipwreck Island Waterpark — Open from the end of May through the beginning of September, Shipwreck Island Waterpark is a family-favorite water attraction. It consistently ranks in the top five water parks in America. The park features daring water slides, a wave pool, a lazy river, inner tube rides, a family activity pool called Skull Island, and even a zipline into the lagoon.
Coconut Creek Family Fun Park — Featuring two mini-golf courses and a large maze the size of a football field, Coconut Creek Family Fun Park is a place for everyone to make awesome vacation memories. The mini-golf courses are great for players of all ages, and the Gran Maze is a fun way to test your navigational skills. Kids under five enjoy the park for free!
Race City — Enjoy a wide variety of thrill rides and attractions at Race City in Panama City Beach. Here, you will find Go-Kart tracks, classic thrill rides like the Scrambler, blacklight mini-golf, bumper boats, mega arcade, the ultimate thrill of bungee jumping/hang gliding on the Skycoaster, and a hands-on fantasy experience at the mythical funhouse.
Pirate's Island Adventure Golf — Challenge your family to a mini-golf competition at the lushly landscaped Pirate's Island Adventure Golf. Kids and kids-at-heart will golf their way through a pirate's adventure full of buried treasure, cave exploration, and nautical fun.
Emerald Falls Family Recreation Center — There's fun for the whole family at Emerald Falls Family Recreation Center. Test your driving prowess on the four-story wooden Go-Kart track, known as the Vortex or the concrete Formula Track. Other attractions include an upgraded arcade, mini-golf courses, and multiple amusement rides at the Kids Kingdom.
Hidden Lagoon Super Golf and Racetrack — Another thrilling Go-Kart track and recreation center, Hidden Lagoon provides a fun family experience. The racetrack is nearly a mile long (the longest on the Emerald Coast) and perfect for some friendly racing competition amongst family. The center also offers two 18-hole mini-golf courses.
Hands-on Educational Activities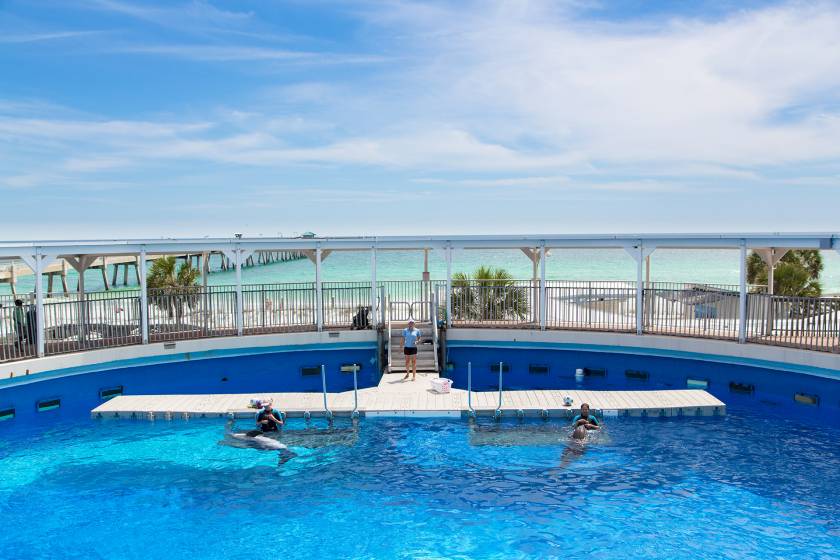 Are you looking for a day trip that's a little more educational but still fun? Panama City Beach is home to many educational venues that offer just that!
Ripley's Believe It Or Not — Learn something new while exploring the whacky, weird, and seemingly impossible at Ripley's Believe It Or Not. Ripley's is full of family-friendly attractions, including fun-filled hands-on galleries, a 7D movie theater, mirror maze, and laser race.
WonderWorks — An amusement park focused on education, WonderWorks combines learning and fun in the best possible way. It features more than 100 hands-on exhibits throughout different "wonder zones." Become a human lightning rod in the Extreme Weather Zone, lie down on a bed of nails in the Physical Challenge Zone, train as an astronaut in the Space Discover Zone, and much more!
Gulf World Marine Park — Home to a wide variety of marine animals, Gulf World Marine Park encourages conservation and education through interactive programs and daily shows. You can swim with dolphins at the park and watch marine life shows. Interactive programs include encounters with penguins, stingrays, sea lions, and more. You can even become a Trainer for a Day, which is the perfect experience for the ultimate animal lover!
Conservation Park — With over 24 miles of trails throughout the 29,000-acre park, Conservation Park is a must-visit for anyone wanting to discover and explore the natural environment of Northwest Florida. Wind your way through beautiful scenery and underneath towering cypress domes. Bring your binoculars for bird and wildlife watching. Use the time to relax and enjoy the outdoors.
Outdoors and on the Water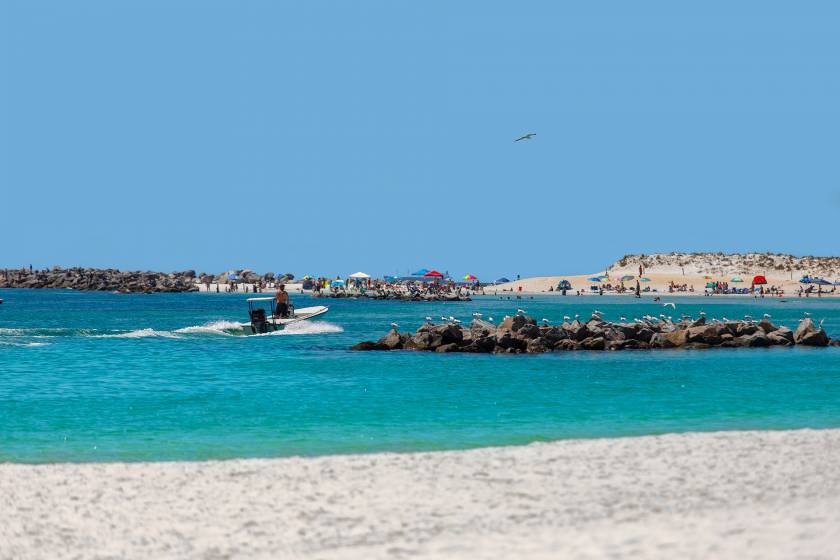 A beach vacation is all about the coastal outdoors, so you might as well enjoy the water and beautiful environment during your day trip to Panama City Beach!
Sea Dragon Pirate Cruise — Climb aboard a pirate ship for a thrilling adventure on the Gulf's high seas. Owned and operated by local Captain "Fearless" Phil, this two-hour family cruise is full of non-stop pirate activities and sightseeing. Sing along to pirate songs, search for treasure, swab the deck, and even get your own pirate tattoo while on this swashbucklin' adventure.
Airboat Tours — Book an airboat tour to explore this unique slice of paradise. With your guide providing interesting facts and tidbits, you and your family might learn something new. You might also spot some cool creatures, including dolphins, alligators, and coastal birds, along the way.
Shell Island — Shell Island is an isolated, undeveloped, and pristine peninsula boasting untouched coastal fauna, white sands, and emerald waves. You can reach the island using the Shell Island Shuttle or your own pontoon boat. Once there, enjoy a laidback day full of snorkeling, watching for dolphins or sea turtles, and simply relaxing on the white-sand beach.
St. Andrews State Park — State Andrews State Park is one of the best ways to enjoy the finest setting the Gulf Coast has to offer. Crystalline beaches and jeweled waves, as well as flatwood pine forest. Besides lounging on the beach, visitors can enjoy a day of hiking, sightseeing, fishing, boating, kayaking, and biking while at St. Andrews State Park.
Beach — This goes without saying, but Panama City Beach offers nearly 10 miles of gorgeous Gulf Coast shoreline, making it a perfect spot for spending a day at the beach.
Pier Park Adventure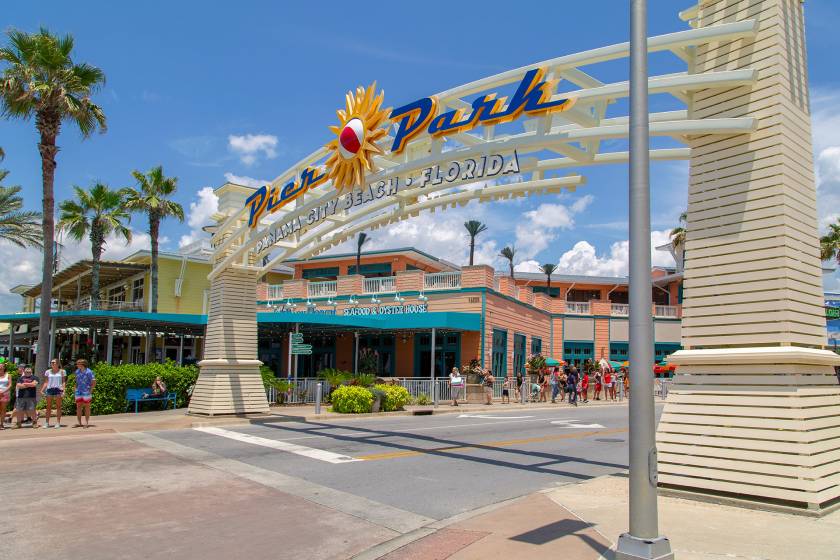 As Panama City Beach's premier entertainment destination, Pier Park offers an adventure in and of itself. With so many restaurants, shops, and recreation activities, it's easy to spend a full, fun-filled day at Pier Park.
Skywheel — This towering Ferris wheel stands nearly 200 feet. It offers incredible views of Panama City Beach and the Gulf of Mexico. The wheel boasts private, climate-controlled gondolas that allow you and your family to experience the magic of the Gulf from a whole new perspective. Other attractions in the park include a ropes course, mini-golf, and a zip line.
Shopping — Pier Park is home to a variety of shops, making it a must-visit shopping destination. Shops include 13 Hub Lane, Dahlia's Boutique, Earthbound Trading Company, Gulf Coast Sandal Factory, Marshalls, Pink Narcissus, and more.
Activities — In addition to shopping, you and the family can explore all the activities located at Pier Park. Royal Escape Rooms is a great way to get the whole family to work together in a themed escape room, from mermaid to outer space to zombie. Engage in a friendly axe-throwing competition at Axe Throwing PCB. There is even a Burn Boot Camp for those wanting to get in a 45-minute, high-intensity workout while on vacation.
Dining — When you need a food break, check out all the dining options Pier Park has available. These include Angry Tuna Seafood Company, Back Porch Seafood & Oyster Bar, Buffalo Wild Wings, Dave & Buster's, Great White Pizza, Pompano Joe's, and many others.
Pier — Of course, when you're at Pier Park, don't forget to take a walk on Russell-Fields Pier. The Pier costs $3, and a daily fishing license can be purchased for $7.
We hope this helps get your gears turning for planning a day trip to Panama City Beach. Because Panama City Beach is so close to 30A—and because the coastal city is just so incredible—it should definitely be on your list of places to visit. Let us help you in planning your next beach vacation today!