Four 30A Vacation Homes with Hot Tubs
There's nothing more relaxing than soaking in a hot tub on vacation. Hot tubs can offer stress relief, muscle relaxation, pain relief, and even improved sleep. All these things are exactly what everyone could use during a South Walton beach vacation! That's why we're happy to share four 30A vacation homes with hot tubs. When you book a stay at one of these lovely homes, you can bet you'll enjoy a super relaxing vacation at the beach.
Abaco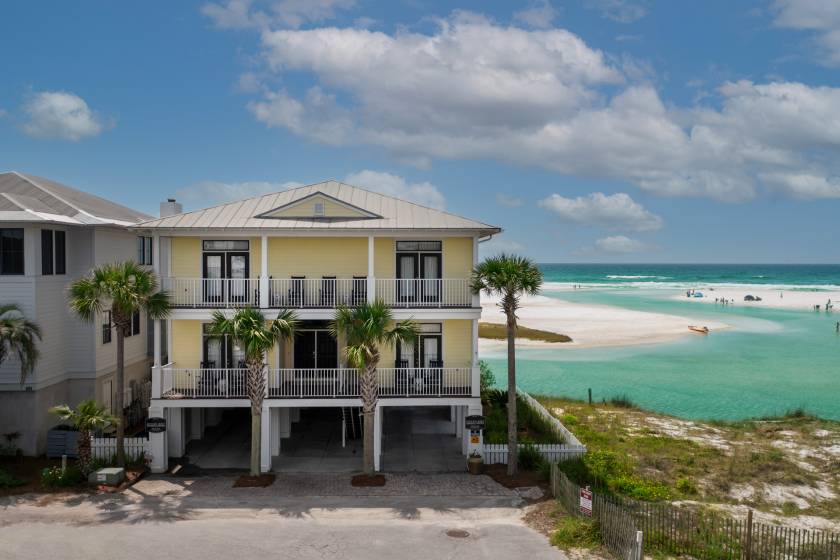 Abaco is a beachfront home located in 30A's Grayton Beach, uniquely positioned on the outfall of Western Lake, where the dune lake meets the Gulf. With six bedrooms, the home can host up to fourteen guests. It also features multiple levels of spacious living quarters, cozy sleeping accommodations, and breezy balconies that overlook the sugary white beach. A hot tub is located on the main deck, where visitors can spend perfect coastal evenings relaxing in the bubbling water while watching the tide and listening to the waves. The deck is also furnished with tables and chairs, making it easy to enjoy outdoor meals, refreshing drinks, and casual conversations with your fellow vacationers. The home's interior is equally welcoming, boasting an open great room with large, sunny windows and well-appointed bedrooms with king-size beds.
C Cottage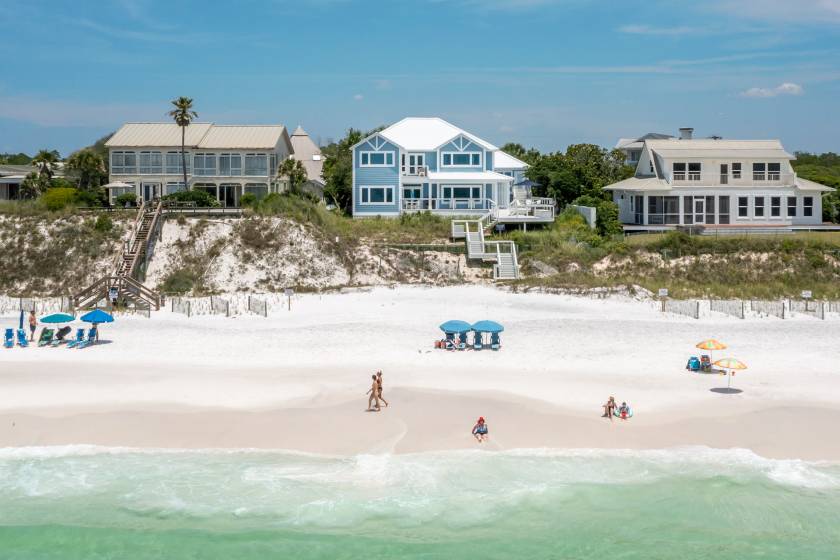 C Cottage is perched high upon the sandy dunes of Blue Mountain Beach, with unobstructed views of the Gulf of Mexico. The rental home's blue and white exterior and its coastal-inspired interior design create a perfect beachy atmosphere. It includes a spacious open floorplan, five bedrooms, and it can sleep up to twelve visitors. One of the cottage's prominent features is the hot tub on the sunny, beachfront deck. It's the perfect spot to relax and relieve any pent-up stress because not only can you soak in the tub, you can do it while taking in the amazing Gulf vistas. After a well-deserved soak, head inside to the comfortable living room, where you can hang out with your family and friends, chat and play games. Then, enjoy a great night's sleep in one of the home's cozy bedrooms so you can do it all over again tomorrow!
Still Waters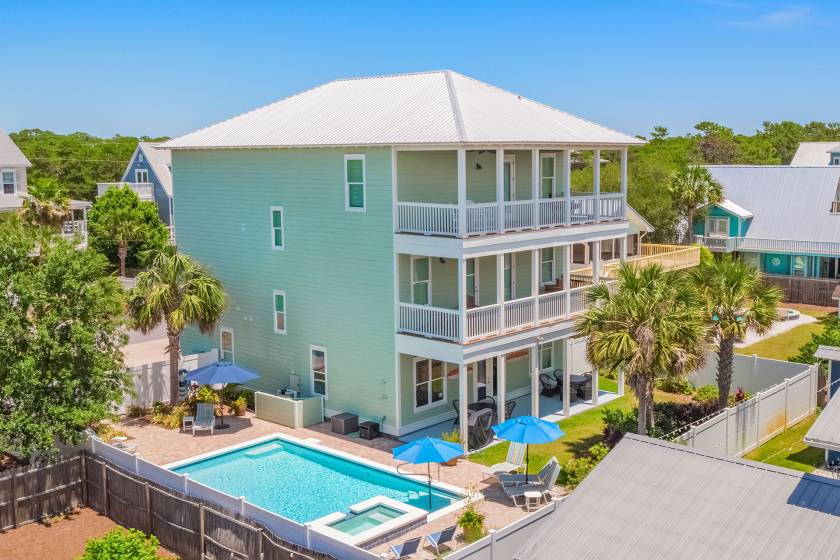 Still Waters is a stately, three-level vacation home located in Santa Rosa Beach near Draper Lake and Gulf Place Town Center. This home is great for large family gatherings, as it boasts eight bedrooms and can accommodate up to thirty guests. Only a short walk from the beach, the home itself offers a quiet sanctuary with a private yard and deck. The deck includes a private swimming pool and simmering hot tub, where vacationers enjoy peaceful evenings and coastal breezes. A BBQ grill is also provided, perfect for serving a tasty poolside Surf n' Turf meal. Though you'll likely spend a lot of time in your outdoor oasis, the interior of the home offers a relaxed setting, too. The living room features plush seating, while the oversized dining area includes two formal dining tables. There is a game room on the third floor, so be sure to challenge your fellow guests to a friendly competition! Each bedroom is comfortably furnished with king-size beds to queen bunks, as well as chic coastal décor.
Backyard Bliss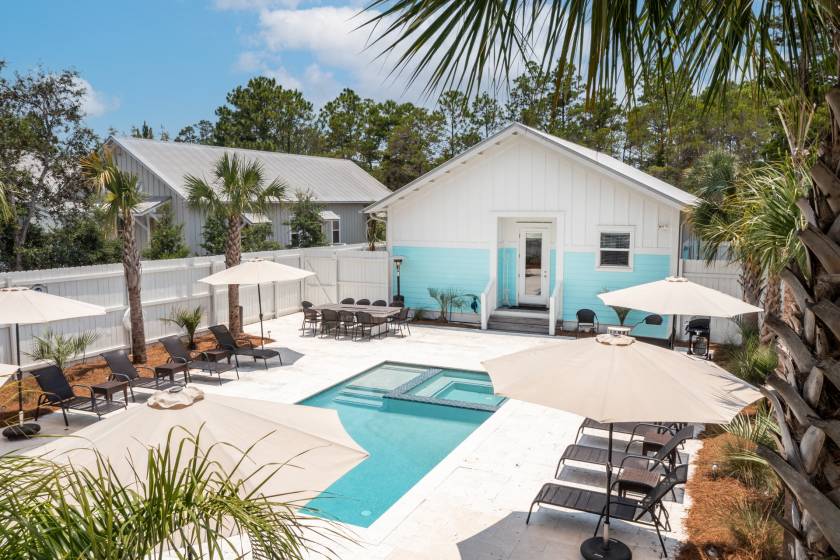 Backyard Bliss is your home-away-from-home in a relaxed 30A oasis. Tucked among the palms in Grayton Beach, this one-level vacation rental has three bedrooms and can entertain up to six guests. As the name suggests, the home features its own fenced-in, private backyard sundeck, pool, and hot tub. Backyard bliss is right! Whether you're suntanning on the deck, taking a freshwater dip in the pool, or lounging in the bubbling hot tub, you're sure to get the relaxation you need on vacation. The paradise vibe continues when you enter the house, boasting bright interiors, a spacious floorplan, handsome dark flooring, coastal furnishings and décor, and comfortable bedrooms.
Is a hot tub on your must-have list when it comes to a 30A vacation rental? Then one of these homes might be a perfect fit just for you! Check out available dates and book your next beach vacation with us.